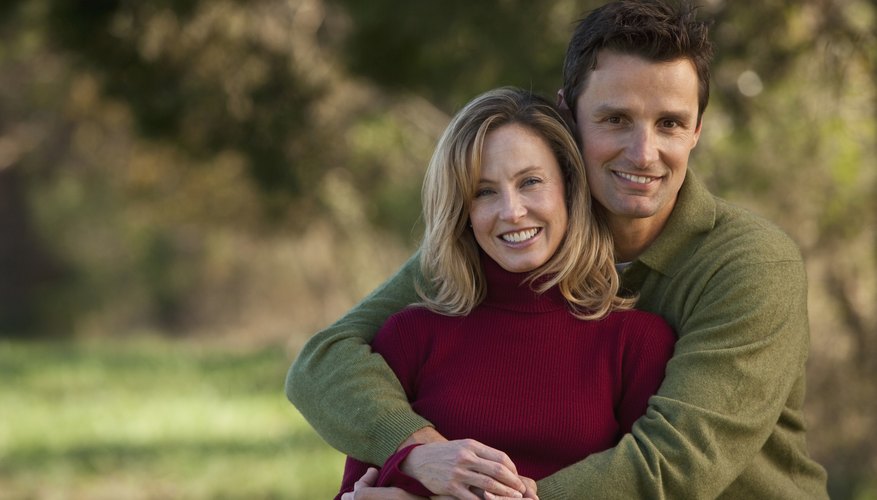 Independence
By the time a man reaches his 30s, he has developed his habits, routine and lifestyle. An independent woman, meaning one who has her own activities, career and things that interest her, will attract such a man. Two independent people coming together with similar lifestyles can begin a healthy relationship. Independence also includes emotional stability, as well as the ability to earn money, have friends and enjoy hobbies. Independence is important for avoiding the appearance of being clingy or needy. Those personality traits can turn men off.
Similar Ideas About Family
Most men aged 30 to 50 have well-developed ideas about whether they want kids. Men in this age range will look for a woman who has the same ideas about kids as he does. If he has kids, he'll want a woman who loves kids. If he doesn't want kids, a woman who wants to have seven of them may not make the best choice for him. If a man doesn't already have kids, but wants them, he may look for a woman who wants to have a child quickly, as the opportune time for childbirth is quickly passing.
Education
Men over the age of 40 want a woman more educated than they are, according to a study conducted by scholars at the University of Groningen and Arizona State University. Men younger than 40 were more likely to want a woman with the same level of education. Men in committed relationships are more likely to seek a woman with intelligence, while men looking for a fling more commonly gravitate to a woman simply because she's pretty. As men grow older, they prioritize intelligence as a positive character trait.
Youth
Men want younger women as they grow older, according to the university study. This may be because men continue to have reproductive capabilities as they age, unlike women, whose abilities to reproduce decline as they age. However, women aged 30 to 50 should not be completely disheartened, because trends are not absolutes. Not all men seek younger women and a self-confident woman of any age can attract an eligible mate.
View Singles Near You