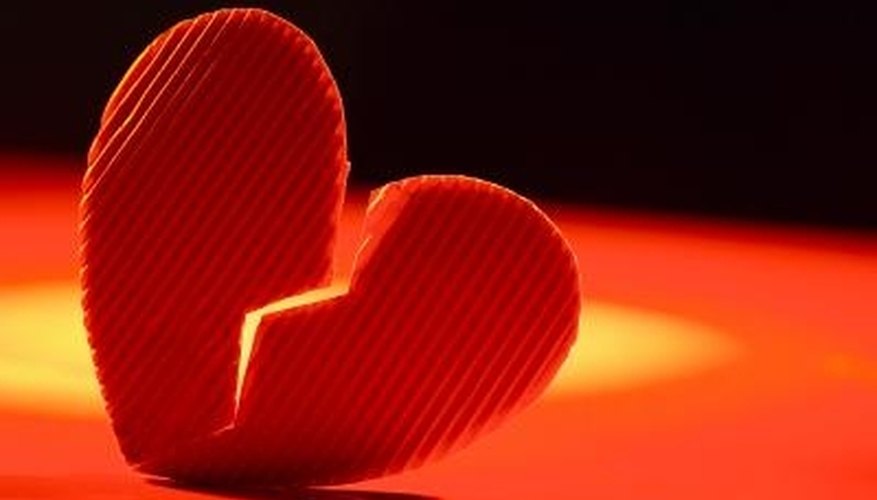 Avoid speaking with your ex. Although it might be hard, continuing communication will only extend the process and make it more difficult to begin a new life. Yahoo! Shine explains that talking to an ex is also likely to result in more hurt feelings, which might come from an unfriendly comment or finding out that he is seeing someone new, for instance. If faced with the urge to call or email an ex, contact a friend instead.
Stop talking about your ex to friends and family. At first, it can be helpful to air your grievances about your past relationship; discussing the heartbreak can feel cathartic. However, continuing to talk about an ex can wear down the patience of friends and family, according to Lifescript. Also, if you keep talking about an ex, it becomes harder to get her off your mind and begin the process of moving on and finding someone else.
Don't follow your ex online or in person, creating the distance needed for healing. Although it is tempting to arrange to "accidentally" run into an ex at a favorite locale, doing so only prolongs the pain. The same goes for patrolling his Facebook profile, because it keeps your mind on your ex and not on creating a new life. The BVX website adds that actual meetings with your ex are likely to feel uncomfortable and can even make you look obsessive.
Get rid of your ex's stuff. When a relationship ends, your ex might leave everything from books to old clothes behind. Although it is tempting to hang onto things for sentimental reasons, doing so only prolongs the pain of the split. Gather your ex's possessions, put them in boxes and donate them to a good cause, or arrange for her to pick everything up when you are not at home, should she want her stuff back.
Invest in yourself. To move on from a broken relationship, improve and pamper yourself in the wake of heartbreak. Go for walks while listening to music, or join a gym to turn the pain into fuel for a good workout. Enjoy a favorite movie while curled up with some popcorn. If your budget allows, buy yourself something special, such as a new dress or handbag.
Tip
Be careful not to overspend or overeat while trying to numb the pain of a breakup.
Warning
If considering doing something illegal as a means of revenge, consider the legal ramifications carefully, because you can get into serious trouble.
View Singles Near You