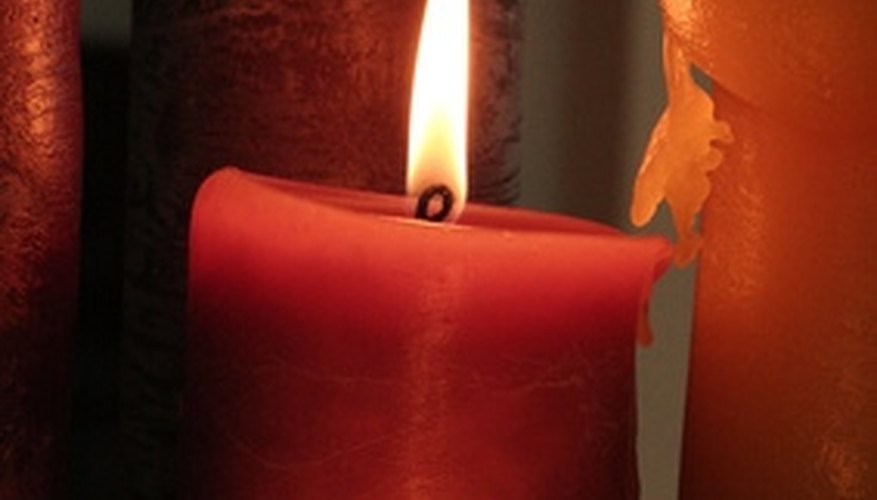 Dinner
While having a candlelit dinner with your boyfriend or girlfriend doesn't sound like a groundbreaking idea, you can certainly spruce up this tried-and-true romantic evening with a few updates. You don't need to have two long, thin candles in candlestick holders placed in the center of the table. Instead, choose different colors, shapes and sizes of candles and place them throughout the room to create ambiance. Of course, your menu will be important as well, but this doesn't mean that you have to be a professional chef or whip up a fancy meal. Comfort food or your significant other's favorite food is a great idea too. Order a pizza, display it on a fancy serving platter and open a bottle of red wine.
Décor
Utilize candles to decorate a romantic room, but use additional props to set the tone. Coordinate candles and scents with flowers, scented lotions and even yummy treats to munch on. There are countless ways to display candles, from simply placing them on a safe dish on a surface, to hanging candle holders and wall sconces.
Pathway
Use a collection of candles to light a pathway for your partner. You can have this lead to a surprise, like an evening picnic or a bubble bath. You can also create a scavenger hunt for your partner, leading up to a grand prize at the end or a few small, fun surprises throughout the hunt. Use candles to point to the areas where your boyfriend or girlfriend should be looking for their next surprise or clue. Make sure the candles are indoors for fire safety.
Unique Candles
Your candlelit ideas don't have to be completely sappy and lovey dovey. Several companies offer candles in all sorts of shapes, like fruits, animals and special occasion images. Think of an experience that you and your partner shared, her favorite things, or an inside joke between just the two of you and purchase a unique candle as commentary on your relationship. Online stores have a wide variety of candles in shapes that include everything from religious symbols to vampire teeth.
Resources
View Singles Near You