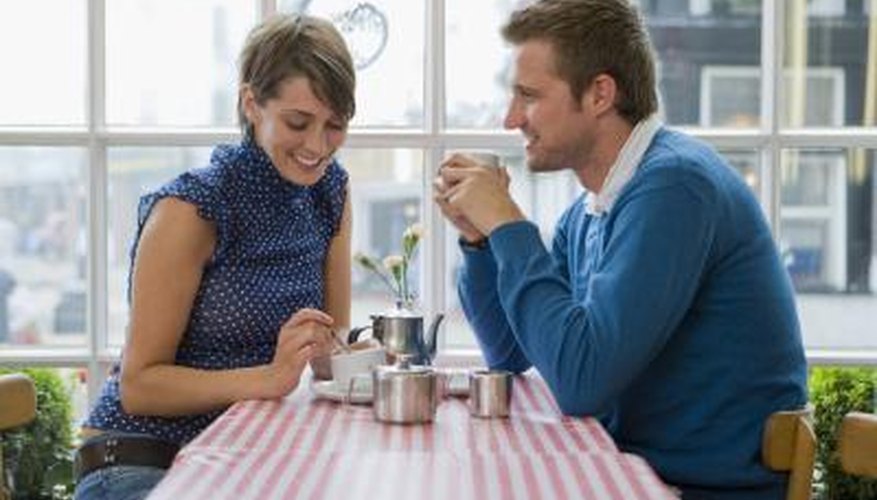 Step 1
Make a list -- mentally or physically -- of all your negative expectations prior to the date. For example, you might be worried that you will embarrass yourself somehow, so come up with several positive outcomes to counter these fears. Maybe your date will find your little mistakes hilarious or even endearing. A more open-minded and positive outlook can help ease your concerns, suggests psychologist Jeremy Nicholson, M.S.W., Ph.D., in a 2011 "Psychology Today" article, "How to Reduce Dating Anxiety."
Step 2
Prepare several conversation topics before the date, says networking coach Don Gabor in the article, "Mastering the Art of Small Talk," published by Oklahoma University. These topics should be fairly general if you don't already know what kinds of subjects interest your date. For example, you might plan to talk about the city's record-breaking snowfall or some upcoming local events, such as concerts or county fairs. Keep the topics light, and you'll avoid awkward silences.
Step 3
Practice confident body language. Avoid slouching and maintain good eye contact, but perhaps most importantly, smile often. Smiling aids you on a physiological level by reducing blood pressure and lifting your mood, says licensed clinical social worker Karen Kleiman, MSW, LCSW in her 2012 "Psychology Today" article, "Try Some Smile Therapy." It will also put your date at ease.
Step 4
Ask your date questions and listen closely. While you will want to divulge a little information about your own interests and experiences, don't feel too much pressure to spend the entire time talking about yourself. When you stay curious about your date and keep your focus on him, you tend to block out your own internal criticisms, suggests Nicholson.
Step 5
Take slow, deep breaths from your diaphragm whenever you feel anxiety rising. Breathing exercises can ease your mind and help you control your nerves during a potentially nerve-wracking social situation, such as a date, suggests Margarita Tartakovsky, associate editor for PsychCentral, in her 2013 article, "6 Ways to Overcome Social Anxiety." Try it out until you feel your muscles relax and your heart stop pounding. Do this in private if necessary.
View Singles Near You