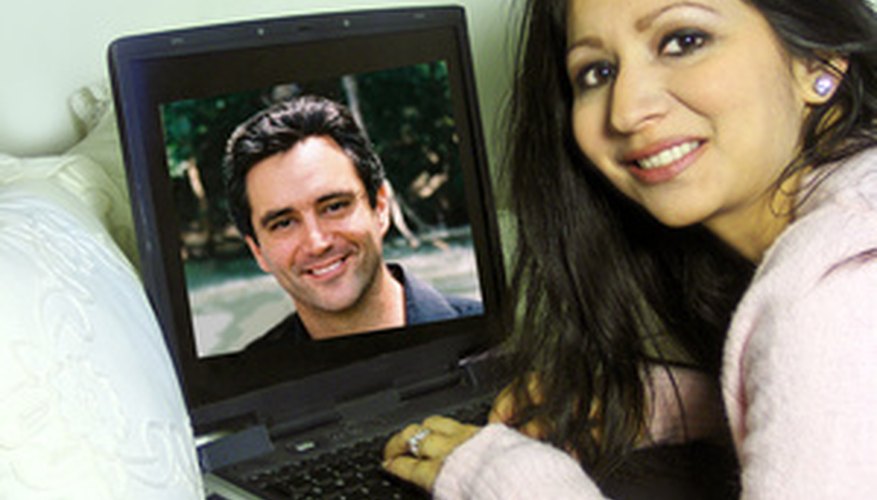 Your Picture
Every photo you post on your online dating profile should be recent and should clearly show your face. Your profile photo should make a good impression, and help women decide if they want to learn more about you by reading your profile. Don't post pictures of you in a group of people with the other faces cut out. Don't post a photo that is several years old. Ask a friend or hire a professional to take some portrait-style pictures of you (head and shoulders) for your profile.
Stay Above the Neck
Women engage in online dating because they're interested in making a mental and emotional connection with someone first and a physical connection later. Physical chemistry is important, but making it your top priority can make you seem like a creep. Don't ask for her weight, measurements or photos of her that show off her body. Get to know her as a person online and over the phone, and you may get to see her body in person. But show her that you're more interested in her physique than her hobbies and interests, and you likely won't hear from her again.
Read Her Profile Thoroughly
A woman's online dating profile contains a lot of information about her. Don't contact her just because you like the picture. She might loathe your favorite band or have a strong distaste for your pets. After reading her profile, you may discover that you're incompatible and if you had contacted her, she probably wouldn't have replied. If you read her entire profile and you still think you're a match, use something you read in your message. Ask about one of her interests or start a conversation about her favorite movie. Personalizing your messages to women gets their attention and makes them more likely to respond.
Go Slowly
If you contact a woman and don't hear back right away, don't follow up. She may be in contact with other men, she may be busy at work or she might have looked at your profile and decided that you're nice, but not her type. Failure to respond to your message isn't a personal affront, or even an indicator of disinterest. If she comes back from vacation to 10 messages asking her why she hasn't responded to you, she'll be scared and block your messages in the future. But if she does reply to your message, don't push for an in-person meeting right away. Take your time getting to know each other online and then over the phone before meeting face to face. First dates should always take place in public for safety. If you suggest making her dinner at your place for your first meeting, she'll perceive you as a threat.
View Singles Near You