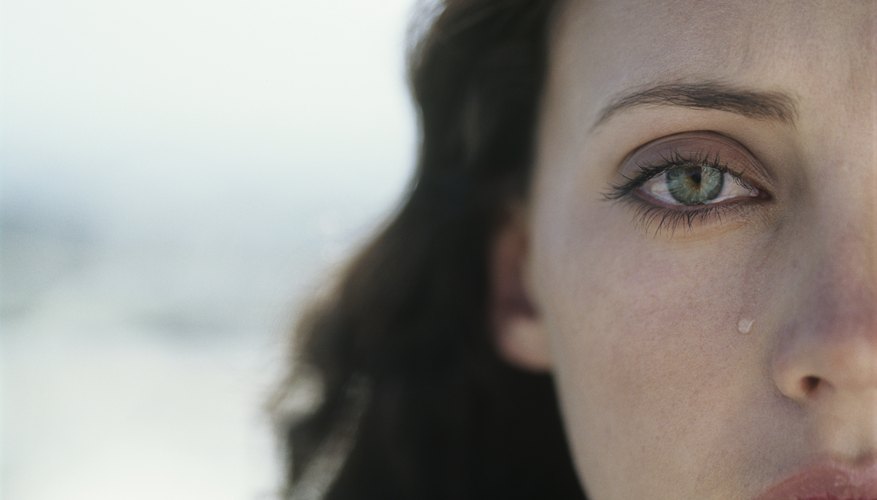 Your significant other has ended your relationship and you're in denial. When one is in denial, her emotions, rather than her intellect, takes control as she tries to come to terms with her loss, says Dr. Jennifer Kromberg, a licensed clinical psychologist and author of "Moving Through the 5 Stages of Breakup Grief," on the website PsychCentral. You can't let go and fantasize about getting back together. Facing the pain of your breakup and moving on with your life are important steps in overcoming denial.
Give Yourself Permission to Grieve
The five stages of grief, as defined by Elisabeth Kubler-Ross, M.D., in her book "On Death and Dying" also apply to the grieving process following a breakup, according to Kromberg. The five stages include denial, anger, bargaining, depression and acceptance. Denial is the first step and is normal following the end of a relationship. Allow yourself to grieve and embrace your emotions. Feeling the pain of grief is what allows you to move forward and let go of your ex, say Jeanne Segal, Ph.D., et al. in the article "Coping With a Breakup or Divorce" on HelpGuide.com.
Ask Friends for Support
When you are in denial, you are holding onto false beliefs. For example, you may think that your ex is going to come back or you may minimize the relationship problems that you had. Ask your friends to point out when you are idealizing your past relationship. Have them remind you of the bad times or of his negative behaviors. Being aware of your irrational beliefs can help you work to change them. For example, whenever you think, "Our relationship really isn't over," replace it with the thought, "Our relationship is over." Talk to your friends about your breakup and how you feel. Talking about it can help you face reality.
Take Steps to Leave Your Ex Behind
When you're in denial, you don't take steps to let go of your ex and move forward with your life. You may hold on to her personal effects, thinking your separation is only temporary. Get rid of her T-shirt that was left behind, her toothbrush or the food in the pantry that only she ate. Throw it away or mail it to her. Removing your ex's personal items from your surroundings is an important part of moving on emotionally, says Cheryl Fraser, a psychologist cited in the article "Getting Rid of The Ex's Stuff: A Breakup Guide to Spring Cleaning" on the Huffington Post website.
Move Toward the Future
As long as you are in the denial phase, you can't completely focus on moving forward. Rather than wallow in your sorrow and wait for your ex to return to you, put your energy into your future. Think about how you would like to feel and set goals that will help you accomplish those feelings, says Sam Owen, a psychologist and author of "Stuck in Denial, Stuck In Life; 7 Steps for Moving On" on his website. For example, if you want to feel a sense of pride and accomplishment, set a goal, such as running a half marathon to achieve that feeling. Taking regular action to help you achieve your goal will help keep your mind on your future, rather than focusing on your past, says Owen.
View Singles Near You
Cite this Article
Choose Citation Style
Elkins, Stacey. "How to Get Over Denial About a Breakup." Dating Tips - Match.com, https://datingtips.match.com/over-denial-breakup-42642.html. 24 May 2016.
Elkins, Stacey. (2016, May 24). How to Get Over Denial About a Breakup. Dating Tips - Match.com. Retrieved from https://datingtips.match.com/over-denial-breakup-42642.html
Elkins, Stacey. "How to Get Over Denial About a Breakup" last modified May 24, 2016. https://datingtips.match.com/over-denial-breakup-42642.html
Note: Depending on which text editor you're pasting into, you might have to add the italics to the site name.