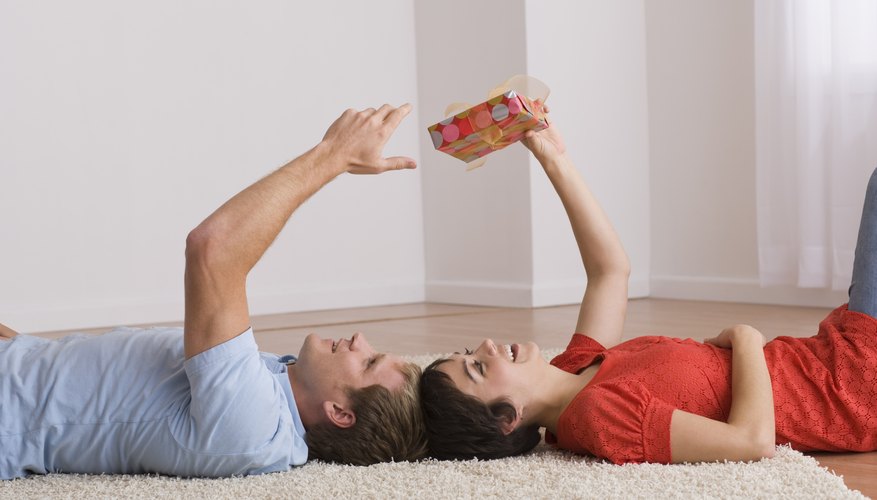 Step 1
Evaluate his likes and dislikes. Even if he's the quiet type and never drops hints, you'll gain some clues from paying close attention to how he spends his time. A gift that helps him to indulge in something he's passionate about is sure to please. While tickets to a game or concert, a best-selling book or a cutting-edge gadget don't seem terribly romantic to you, he'll get a warm, fuzzy feeling from the fact that you know him so well. A magazine subscription keeps on giving – and making him think of you – month after month. That barbecue grill he's been lusting after might be a romantic manly gift.
Step 2
Consider creating a personalized gift. Frame a sweet photo of the two of you or put together a scrapbook that commemorates all of your fun times together. If he loves music, compile a CD of his favorite songs. Write a love letter, or jot down small notes that catalog all of the things you love about him and present them to him in an attractive box or jar.
Step 3
Contemplate a classic gift. Give him an attractive shaving set or a bottle of scrumptious cologne. If your budget is on the high end, pick out a fancy watch or cufflinks he'd never buy for himself. You might think a tie seems like a boring, predictable gift, but traditional masculine gifts can make him feel more like a man and put him in a romantic mood.
Step 4
Include an appeal to his sensual side. Your guy's thoughts will definitely turn to love if you select a birthday, holiday or anniversary gift the two of you can enjoy together. A pair of silk pajamas or boxers will put him in the mood; a book of "love coupons" or a bottle of massage oil will keep him there.
Tips
The best gifts for men are rarely necessities. Indulge him with a frivolous token that makes him feel like a king.

Give your man some special time with you; it's a priceless gift. Plan a getaway or "staycation" and just relax together.

You know the way to his heart, so make him a special dessert. Treats that tempt the palate are always sweet gifts for men.
View Singles Near You