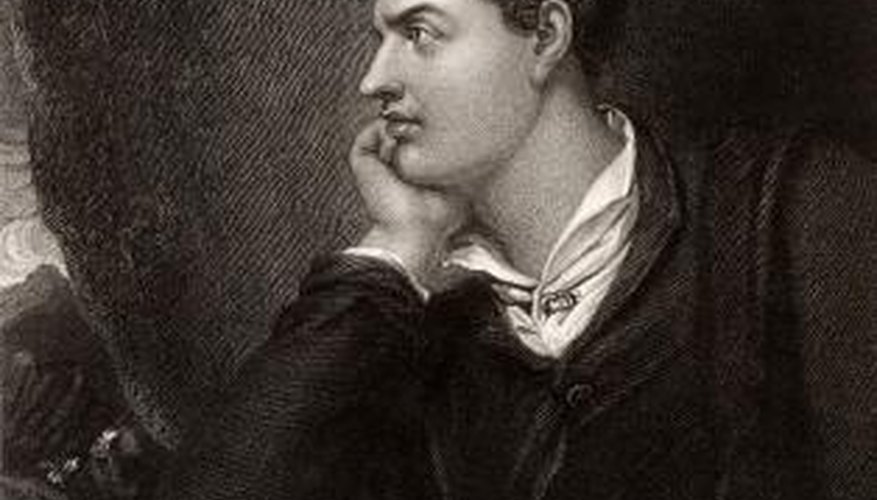 Individualism
The Romantics focused on the individual. They viewed the Self as a divine spark linking all human beings to one another and to a Greater Truth. Romantic musicians, poets and visual artists created art that reflected personal experiences, but represented universal themes. Romantic writers including Mary Shelley, Percy Shelley, Lord Byron, William Wordsworth and Samuel Coleridge saw themselves as outcasts, moral leaders and prophets who gave a voice to nature and the common man. They frequently depicted similar figures in their works.
Nature
Romantic artists, musicians and poets saw nature as a dynamic teacher that helped humans understand their place in the universe. Romantic painters created terrifying depictions of nature's fury. For example, Theodore Gericault's painting "The Raft of the Medusa" became an icon of the Romantic movement for its intense emotions, explicit depictions of the horror associated with shipwrecks and lack of a heroic figure. The Romantic approach to landscapes was embodied by J.M.W. Turner's painting of the Carthaginian General Hannibal leading his men across the Alps during the Second Punic War, which depicts the soldiers dwarfed by the landscape and hidden by snow.
Emotions
The Romantics explored emotional extremes in their work. For example, rather than simply depicting the subject's likeness, Romantic painters created portraits that explored their emotional and psychological states. Theodore Gericault explored mental illness in his portraits of mental patients and the dark side of childhood in his paintings of children. For instance, in his painting of the young boy Alfred Dedreux, Gericault gives his subject an intense, adult expression and places him against a background filled with dark, ominous clouds.
Transcendentalism
In the United States, Romanticism gave rise to the transcendentalists, an offshoot of liberal Christianity. Transcendentalists, such as Ralph Waldo Emerson, explored the role of individual thought in the perception of the world, the creative power of the consciousness and the unification of the human soul with the Universal Spirit or the One. While Emerson was not interest in politics, many transcendentalists such as Henry David Thoreau, Bronson Alcott, Elizabeth Palmer Peabody and Margaret Fuller saw spiritual purification as the precursor to political reform. These reform minded transcendentalists explored areas such as feminism, communal living and passive resistance. Thoreau's essay, "Civil Disobedience," inspired Gandhi and Martin Luther King, Jr.
View Singles Near You