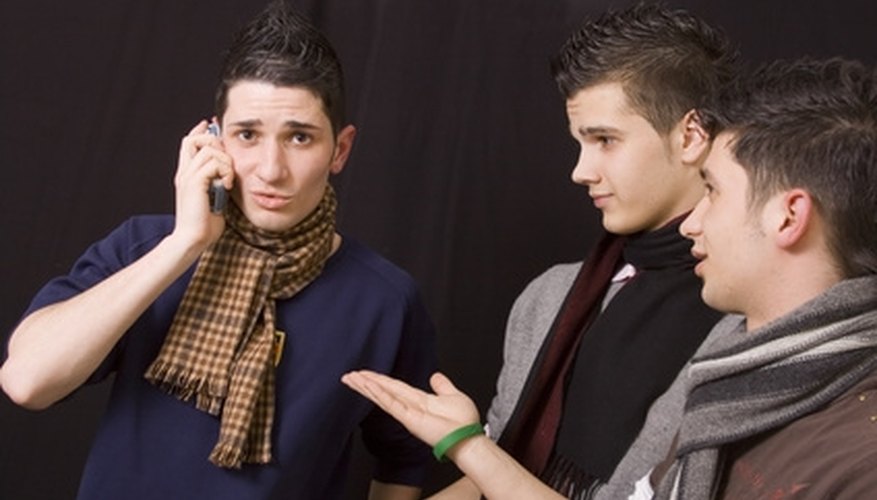 Keep It Casual
Almost everything about telephoning a woman should be casual. This includes keeping conversations short and manageable, not calling multiple times in one day and not revealing too much about yourself too soon. Most women do not want a guy who is too pushy, either on the phone or about trying to get a second date. Saying something like, "We should hang out sometime this week" is much more casual than, "Why don't you come over and spend the night?" Keep phone conversations lighthearted and fun.
Be Prepared
One of the biggest fears guys have is running out of things to say on the phone. To avoid this, writing down a list of 20 things to potentially talk about is wise. These could be stories from the week, current events or any interesting projects that you may be working on. Have that list available when talking and if you need to use it, make sure it doesn't sound like you're speaking from a script. Also, get comfortable beforehand with some enjoyable music and a glass of water.
Employ Natural Rhythm
The rhythm of a phone conversation is extremely important. There are many potential ways to throw off the rhythm of a casual phone chat; one way is to only talk about yourself. A good way to avoid this is to turn the conversation back over to her after speaking about yourself. For example, "So, that's how I got a free lunch today. What about you? Get any 'freebies' lately?" Another way to throw off the rhythm is attempting to be unnaturally funny. It is OK to have a joke or two available, but unless you are a professional comedian, too many jokes will come off as forced and awkward. Speak naturally and talk as you would to any friend or acquaintance.
Avoid Playing Games
A lot of men are convinced that the only way to win a woman over is by playing games. One example of a game is waiting a long period of time before calling a woman back. Waiting more than 72 hours before calling a girl back may cause her to think you're not interested. When in the beginning stages of a relationship, avoid sending text messages, as they are easily misinterpreted. Do not pretend to be someone you're not and don't read lines from a pick-up manual. Winning over a woman using someone else's tricks will eventually be found out and the woman will be annoyed and find you insincere. Be yourself and leave the games to other guys.
View Singles Near You