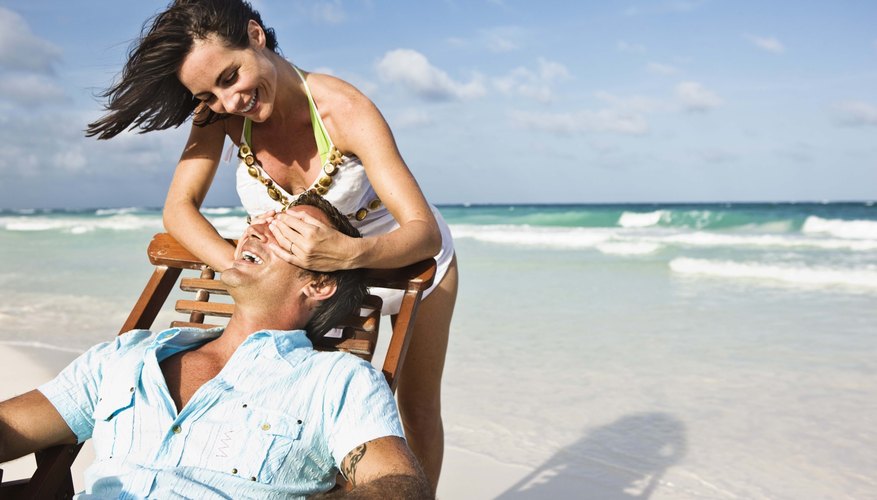 Pick a Destination
Don't stress over choosing the most romantic setting you can imagine; visiting a tropical island isn't a realistic goal for a budget weekend trip. You'll add romance to whatever trip you plan, so anywhere from the country to the city can be the perfect setting. To make the trip perfect for your partner, surprise her by planning a trip to a place she likes. If she's an adventurer, opt for a camping trip in the closest state park. Find out where her favorite band is playing and make a weekend out of visiting that town, or journey to the closest town with a major university if she loves college basketball. Make it a destination you like too or you'll be unhappy all weekend.
Hit the Road
When you're trying to plan a short vacation for little money, flying is pretty much out unless you manage to find the rare incredible deal. Consider two methods of transportation: driving and taking a train. A bus tends to be an incredibly unromantic way of getting around, but on a train you can sit back in comfort, enjoy the views and gaze at each other. Driving will often be more affordable, and you'll be able to belt our your favorite tunes together and change course anytime, giving your trip an adventurous feeling. Weigh both options when deciding how you'll get around.
Pack Well
As long as you're traveling by car, or even by train, you'll have the freedom to pack plenty of gear to make the weekend memorable and keep costs low. Fill a picnic basket with bread, fruit and chocolate and stow some cheese and gourmet meat in a cooler. Hide a few bottles of champagne or wine in your luggage -- don't forget glasses and a corkscrew -- so you can enjoy after-dinner drinks in your room instead of at a bar. Pack some massage oil, bubble bath and candles to make even a dingy motel room feel like a romantic retreat.
Plan Some -- Not All -- Activities
Having some activities planned, especially if they're surprises, shows your partner that you put effort into the trip. Scheduling every minute of the day, however, is far from romantic. Plan one or two activities for each day. Find a winery to visit, research the museums with the lowest admission prices, or get in touch with your inner children by scouting out some miniature golf courses to visit. Leave the rest of the weekend free for spontaneous adventures. Unless you're both happy early birds, don't plan anything before noon; waking up late in a comfortable bed together is one of the most romantic experiences imaginable.
Tip
Allow yourself and your loved one a chance to go on inexpensive romantic getaways. There is always a way to make it affordable. For more ideas: Romantic Travel Destinations.
View Singles Near You