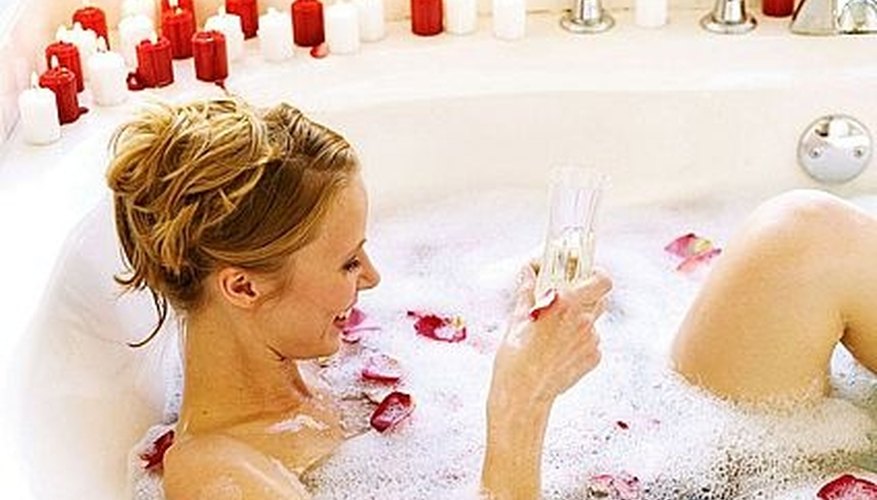 Arrange for child care, if you have small children, so you can plan to have your romantic bath without the threat of interruption. Hire a babysitter to take the kids out to a movie or another out-of-the-house activity. If you live close to family, ask your parents or your spouse's parents to invite their grandchildren over for a special Valentine's Day sleepover.
Think about how you want your Valentine's Day plan to unfold as a whole. If you want to surprise your partner with a romantic bath, avoid disappointment by giving him a hint that you have arranged something at home to celebrate the holiday.
Clean your bathroom. Nothing can ruin a romantic mood like soap scum and an otherwise dirty bathroom.
Create a romantic atmosphere with fancy candles. Select pink and red candles for a Valentine's Day theme or choose your favorite scent.
Bring a portable radio or CD player into the bathroom for some mood music. Tune the radio to a station you both like or play favorite CDs that you have collected as a couple.
Add essential oils or a scented bubble bath to your running bath water. Lavender oil is especially relaxing.
Plan to have your favorite body wash or bath gel available, along with a mesh sponge. The purpose of this bath may not be to wash, but the scent of your body wash can be a nice addition to your romantic bath.
Choose large, soft towels for you and your spouse to use after your bath. Pre-heat them in the clothes dryer for a few minutes before your bath for an added touch, especially on a cold winter's night.
Things You Will Need

Towels
Cleaning supplies
Candles
Portable radio or CD player
Essential oils or bubble bath
Mesh sponge
Body wash or bath gel
View Singles Near You