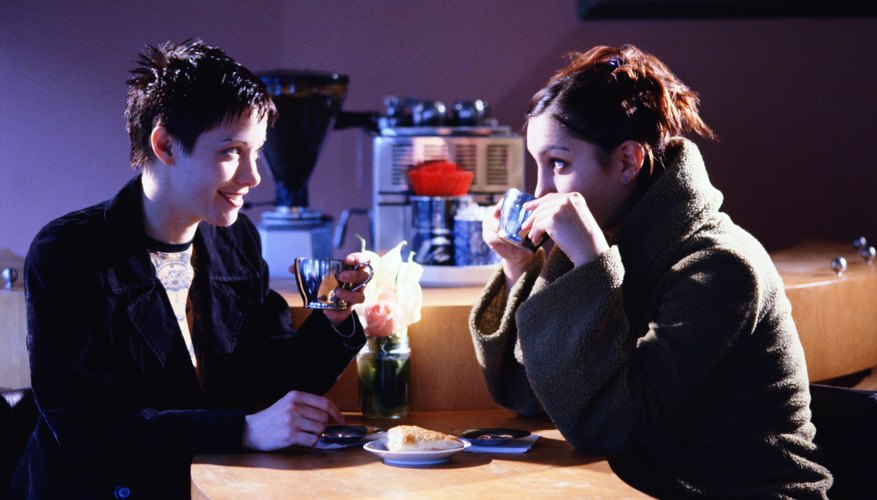 What to Avoid
Respecting your date's time is important, so do not show up late if you hope to snare dates in the future, according to the TwoOfUs article "Dating Do's and Don'ts." Do not answer phone calls, text messages or other communications while out on your date, as doing so can send the message that your date is not worth your attention.
Holding Conversation
Though the conversation might be engaging, getting too comfortable may mean tossing proper manners aside. You should avoid discussing topics that could be offensive or controversial, such as politics and past relationships, during the first few dates. Also, conversation should be upbeat -- not critical, and if you do have compliments to give, making them genuine and sparse can keep him from feeling pressured, according to psychologist Jamie Long in the Psychology Today article "10 Dating Do's and Don'ts from 6 Therapists." Conversation should be a mix of revealing your thoughts and interests and asking about your date's, but the conversation should not be an interrogation.
The Kiss
A goodbye kiss is not required in the early stages of dating, though it usually occurs within the first few dates, according to Sari Locker, who teaches psychology at Columbia University Teachers College, in the article "First Kisses: The New Rules" for the magazine Happen. More passionate kissing should be set aside for later, with initial kisses being brief and saliva-free. Guys and girls alike can initiate a first kiss without fear of going against "proper" manners.
Financially Speaking
While paying for a first date once fell on the shoulders of men, other circumstances can play a role in who pays. Usually, the person who asks for the date should expect to pay for both people, according to the TwoOfUs article "Dating Financial Etiquette ... Who Pays?" It is also respectful to offer to split the bill or to mention paying for the next date, if you intend to go out with this person again. When you ask someone out and intend to pay, you might make your intentions clear by saying "Can I treat you to dinner?"
View Singles Near You