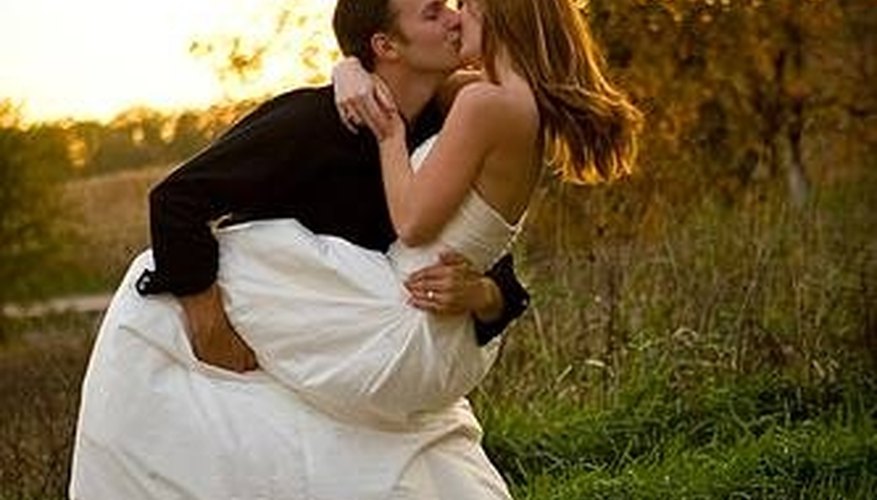 Online dating is becoming a more common way for singles to find true love. There is a site that caters to just about every whim or belief, while some even offer forums and fun activities to make contact easier. Of course, there are also lots of wrinkles in the Internet dating system. With a careful eye and common sense, finding safe and smart love is possible.
Function
Internet dating is an easy way to meet lots of romantic prospects in a short amount of time. Within minutes, a single can pull up a list of hundreds of suitors sorted by interests, height, weight or language. Online dating can also be a fun way to pass the time; services such as OK Cupid are chock-full of interactive quizzes and questionnaires that not only alleviate boredom, but increase a person's chances of finding a more compatible match. Online dating may also be a path to frustration and disillusionment. There are countless stories of dishonest users who have decade-old profile pictures, are fronts for webcam services or are unscrupulous scammers looking for attention and profit. Many sites have a fee for contacting prospects, something that can seem daunting to first-time users who don't quite trust the site enough to spend lots of money. In short, Internet dating is simple and satisfying -- if you know what to look for.
Types
There are myriad dating sites on the web. For many people, there are certain characteristics that are "deal breakers" in a relationship. When a searcher figures out those make-it-or-break-it things, they can do a search to find a suitable site match. For instance, many people wish to date others of a spiritual faith exclusively. To that end, there are sites for Jewish singles, Muslim singles, pagans, atheists and Christians. Often, these sites will have requirements or strict rules pertaining to profile information and photos. If faith is a driving force, then religious sites could be a great choice. Other sites cater to ethnicity. African-American sites abound, as do sites for those who date interculturally. Specialty sites such as Shaadi.com are aimed at Indian people who might be looking for arranged marriages as well as conventional dating. Sites for Asians and Europhiles also exist. There's a site for practically every race or culture. The abundance of choices can seem overwhelming. However, dating is one case where it pays to have options. Try listing on several sites to get a good cross-section of choices and contacts.
Features
Most dating sites will have an easy-to-navigate layout, with a search engine that can narrow options by different characteristics. A user creates a profile with a description of what he's looking for, as well as a description of himself. The site will also allow users to upload several pictures of themselves. After that, the user is free to browse site features and meet other guests. Some dating sites have interactive forums, games or member blogs. Dating sites seek to create a community atmosphere among its users. The biggest vulnerability with these sites, as with dating ads in general, is that the truth can be bent. It's common for people to fib about things such as weight, job and marital status. Some users balk at uploading pictures for fear that co-workers or friends will find them. Still, others squelch an otherwise vibrant personality underneath a bunch of muddled words in their profile. Like many things, the Internet dating experience is only as good as the people using it.
Warning
Another possible problem that many run into is interpretation. There will always be users that stumble onto a site that's not going to deliver the desired result, no matter how well their profile is written. Someone looking for a steady relationship may have problems on sites aimed toward young singles looking for recreational companionship. It's important to search for a site that will have similar people with comparable interests. There are also dating sites that specialize in sexual activity partners or adultery. Although these things may not appeal to some people, many find partners on them that suit their requirements. Be careful to check what people want, and respect their wishes. Be honest and realistic. Don't expect someone searching for a short-term or NSA (no strings attached) relationship to change her mind about a long-term arrangement because of you. Online dating goes a lot smoother when it's approached from a place of caution and acceptance. Of course, a user must think of safety when giving out personal information over the Internet. With online dating, it can seem easy to build trust. People have lost huge amounts of cash through scams, believing that their gifts and checks were going toward bills or emergencies. If someone seems too good to be true, they usually are. Never have a first meeting in a private place, and always let someone know where you're going. It's critical to keep a level head, and trust your gut. Internet dating can seem tiresome after a while. A successful search requires an open mind, keen attention to detail and a healthy dose of skepticism. Many people get extremely picky or rude, thinking that the rules of decorum don't apply to Internet dating. When this happens, simply move onto the next person on the list. Resilience is key to successful online dating, and more people sign up every day. Keep an active presence on the sites, and the contacts will come.
Benefits
Although Internet dating has many drawbacks, it also has many pluses. You can't beat the convenience of online matchmaking, and the sheer number of users and sites makes it simple to find partners. In addition to making dates, you can also make friends. It's possible to find activity buddies and pen pals through dating sites. Dating sites are also a good method of testing the waters again for people who have been out of the scene for awhile. Online dating takes out the anxiety of meeting someone. A lot of people don't like going to bars or clubs, or feel uncomfortable attending singles' events. With online dating, a good conversation is just a click away. It lacks the feeling of being scrutinized or put on the spot that can come with face-to-face contact. A user can flirt and have a good time in the comfort and security of his own home. For singles who are tired of the same old scene, the online world offers lots of chances to make a connection. Online dating is worth the time and effort, as more people are falling in love on the web every day.
View Singles Near You
Cite this Article
Choose Citation Style
Starr, Gigi. "Pros & Cons of Internet Dating." Dating Tips - Match.com, https://datingtips.match.com/pros-cons-internet-dating-4597503.html. Accessed 02 June 2020.
Starr, Gigi. (n.d.). Pros & Cons of Internet Dating. Dating Tips - Match.com. Retrieved from https://datingtips.match.com/pros-cons-internet-dating-4597503.html
Starr, Gigi. "Pros & Cons of Internet Dating" accessed June 02, 2020. https://datingtips.match.com/pros-cons-internet-dating-4597503.html
Note: Depending on which text editor you're pasting into, you might have to add the italics to the site name.