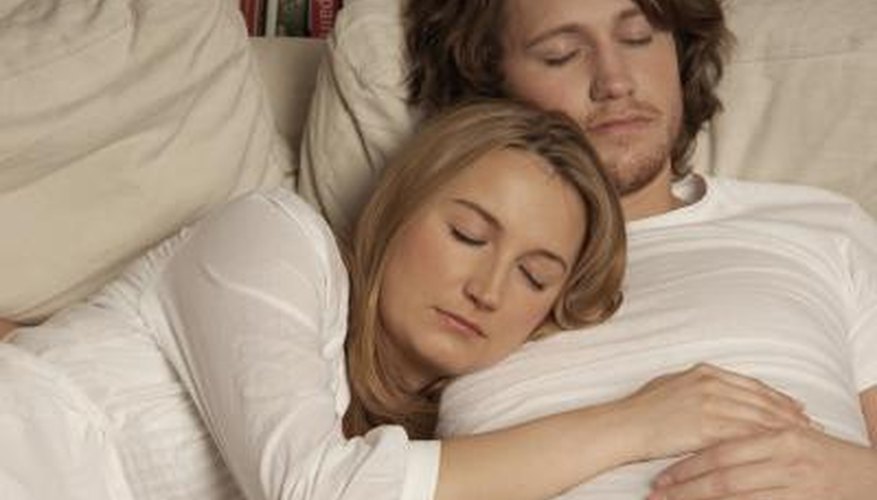 Chemistry
While an individual may not have an acute sexual reaction to her soul mate the first time they meet, the book "Kindredness, Kinships, and Soulmate Experiences" says that there should be, "A deep sense of relief and visceral feeling of fulfillment in each other's presence. A driving need to be together." A soul mate should induce a feeling of fullness that was simply not there before. An individual should experience an instant and deep bond with her soul mate, and it should be obvious that the feeling is mutual.
Ease
Authors and psychologists Robert S. Badame and Shelley F. Diamond report that soul mates share, "A quirky commonality that is difficult to rationally explain." These individuals may share the same favorite bands, movies, and life goals or dreams. In addition, Badame and Diamond report that soul mates are able to comfortably enjoy long stretches of silence, confident that the other party can somehow understand -- and silently respond to -- what is being thought and felt. Two soul mates enjoy a natural and easy emotional, physical and spiritual connection with one another.
Generosity
The book "The Marriage Plan" says that a soul mate, "Feels so much love for you that he is generous with his entire being." A soul mate crumbles the self-protective walls around a lover's heart. With these defensive mechanisms down, an extreme generosity occurs. No inconvenience seems like it is too much of a hassle, if it makes life a bit easier for his beloved. This generosity is reciprocal, resulting in a mutually beneficial sharing of talents, skills and possessions.
Growth
Since soul mates share a similar worldview and interests, they often explore the world together, enjoying shared experiences that help them develop into more mature and well-rounded people. Relationship expert Aggie Jordan, Ph.D., says that, "The joys of marriage to a soul mate have to do with mutual exploration beyond the relationship."
View Singles Near You