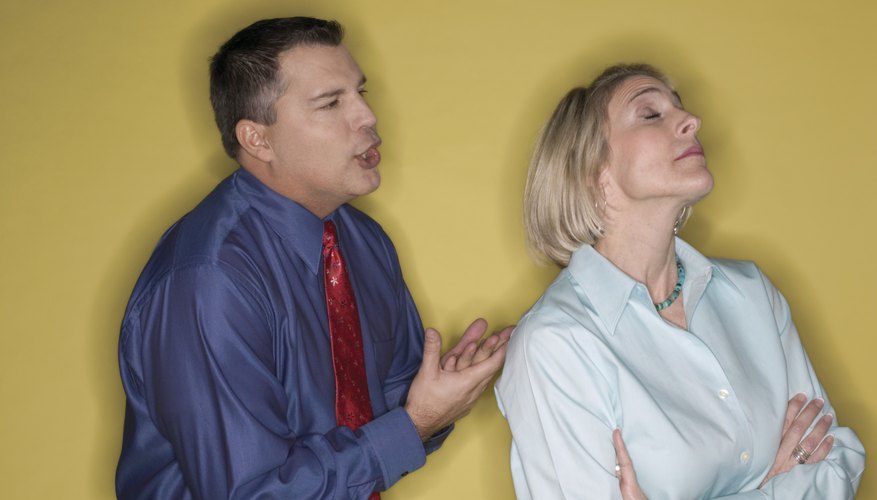 Fear of Failure
Perhaps the biggest reason people avoid confrontation is rooted in a fear of failure. If involved in a romantic relationship, the person might be afraid that confrontation will result in the loss of the relationship. Others are concerned about not getting their point across and failing in that aspect. Many people are afraid of rejection and emotional pain and feel that avoiding confrontation is the best way to avoid these hurtful feelings.
Fear of Harm
Some people avoid confrontation because they are afraid of how the other person is going to respond. Human beings are equipped with the fight-or-flight instinct that causes them to assess a situation before they decide whether to face it or to run away. People who avoid confrontation could be afraid that harm is going to come to them by confronting the other person. Therefore, they avoid the situation altogether, rather than dealing with the other person's anger.
Fear of Others' Perceptions
Most people would like to be seen as a nice person. This desire keeps some from confronting people because it could cause others to see them in a negative light. Fear of being perceived as selfish might be the reason for some people's avoidance of a conflict. Society often rewards people for having alternative responses to conflict. When a person addresses a conflict, he can be labeled by society as confrontational and difficult to get along with.
Fear of Intimacy
Confrontation and conflict are necessary components of a mature and intimate relationship. Therefore, a person who avoids confrontation is also keeping herself from true intimacy. If a person is afraid of intimacy, she might not want to express her true desires and needs by confronting her significant other. Instead, she hides her feelings because of a fear of becoming too close to the other person and letting that person into her head.
View Singles Near You