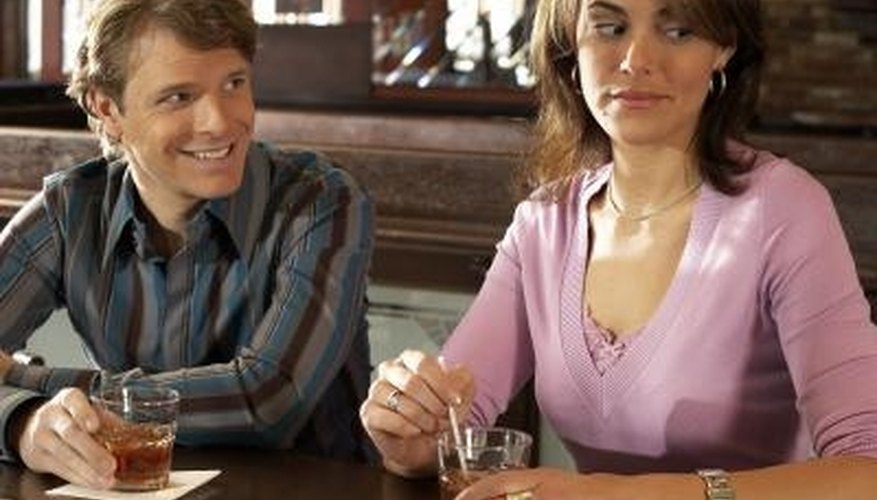 Lost Interest
Negative dating behaviors can cause your date to lose romantic interest in you, and possibly worse. Adverse behavior such as texting or talking during the date leads your partner to believe you aren't focused on them, increasing the probability of lost interest. Paying attention to other people or things, such as the football game on the big screen or the attractive blonde at the bar also leaves a poor impression on your date. Lost interest may lead to a poor date, with limited interaction and awkward silences.
Bad Fights
Its natural for two people who've barely known each other to have contrasting viewpoints, based on upbringing, religious beliefs and political views. People risk escalating a difference in opinion into arguments or full blown fights by using repeated negative behavior. Refusing to accept a person's beliefs by belittling her stance, or declaring his viewpoints as "stupid" turns potentially interesting conversations into deconstructive arguments. Poor behavior, such as being rude to the date and her friends may also cause a confrontation. Bad fights over time may lead to an unhealthy relationship with the person you're dating.
Damaged Perception
Negative dating behavior most certainly change the way others perceive you. In restaurants, negative behavior such as confrontations with employees may cause your date to think of you as a rude person. You may even receive a permanent ban from the restaurant. Additionally, antisocial behavior when meeting a date's friends and family for the first time will surely taint their first impression of you. They may recommend dating someone else. A negative dating experience can also also be relayed to mutual friends, coworkers and others, further damaging your reputation.
No Second Date
In the case of first dates, negative behavior may severely cut the chances of receiving a second date. Crossing a physical barrier with your partner too soon, or asking personal and revealing questions, may intimidate your date. Committing those actions, along with any other egregious errors, will persuade your date to see another individual.
View Singles Near You