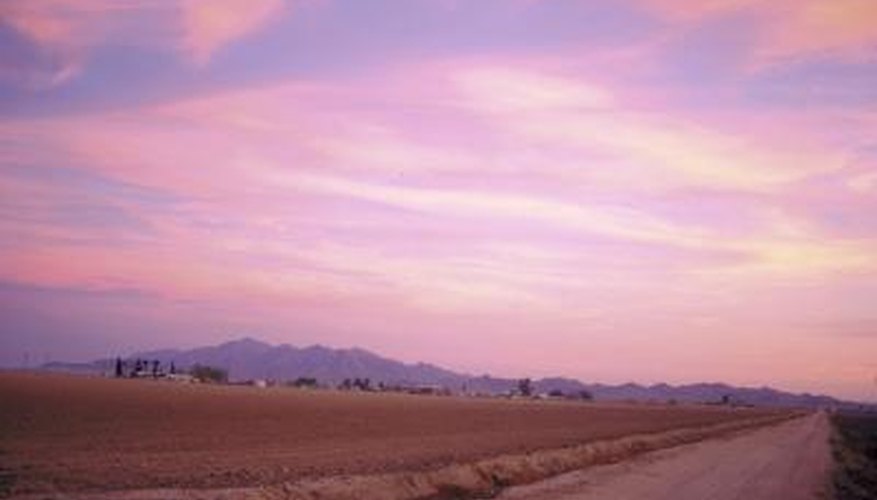 Luxurious Digs
Venice, Italy, comes alive at Hyatt Regency Scottsdale Resort and Spa at Gainey Ranch, just 20 minutes from downtown Phoenix. Take a ride throughout the waterways of the lush 27-acre resort in a handcrafted gondola as gondoliers serenade you in Italian. Lounge alongside one of the resort's 10 swimming pools dotted with 45 waterfalls, 20 fountains, private cabanas and a sandy beach. Unwind in the lavish grounds of Royal Palms Resort and Spa, a 1929 mansion lined with cobblestone walkways and outdoor fireplaces. Stay with your honey in a cozy villa equipped with its own private garden, indoor-outdoor shower, deep soaking claw-footed bathtub and gas fireplace. Book a romantic package complete with rose petal turndown service and dinner for two at the hotel's gourmet restaurant.
Landscape Exploration
View Phoenix and the majestic desert valley via a hot air balloon ride. Companies such as Hot Air Expeditions provide adventures with some balloons soaring as high as 3,000 feet. Flights take off in the morning and evening as the sun rises and sets over the city. Depending on when you fly, upon landing you'll be treated to a spread with chocolates, tarts, cheeses and sparkling cider. Enjoy Phoenix's rustic landscape while embarking on a leisurely afternoon of horseback riding at the Ponderosa Livery Stable. Ride your horse through some 50 miles of trails, along rugged arroyos, the foothills of South Mountain and jagged rock formations. For added romance, book one of the stable's sunset horseback rides.
Green Grounds
Take a lazy stroll across the 140-acre Desert Botanical Garden, home to more than 50,000 plants, including colorful succulents and cacti. Listen to live music with your significant other as you sip wine and picnic under the stars during the annual Music in the Garden Concert Series. During the holiday season, the gardens also host Las Noches de las Luminarias, where 8,000 luminaria bags and thousands of white lights illuminate the gardens. Just 15 minutes from downtown Phoenix, Tempe Beach Park sits along the banks of Tempe Town Lake. Take a walk through the 25-acre park, including alongside the water, via the five miles of trails. Enjoy a leisurely afternoon of fishing and picnicking with your sweetie or take a ride across the lake by renting pedal boats or double kayaks from Rio Lago Cruise Company.
All the World's a Stage
Enjoy a night of high-end culture at Phoenix Symphony Hall, home to such performing arts companies as the Phoenix Symphony, Arizona Opera and Ballet Arizona. Set in the heart of downtown, the 2,312-seat theater is within walking distance of a host of elegant gourmet eateries and wine bars for pre-theater dining. For an intimate setting, head to the Phoenix Broadway Theater, a cozy dinner theater filled with white cloth-covered tables that glow with the faint hint of candlelight. Chow down on a multi-course meal while big budget Broadway musicals are performed just feet from your table.
Resources
View Singles Near You