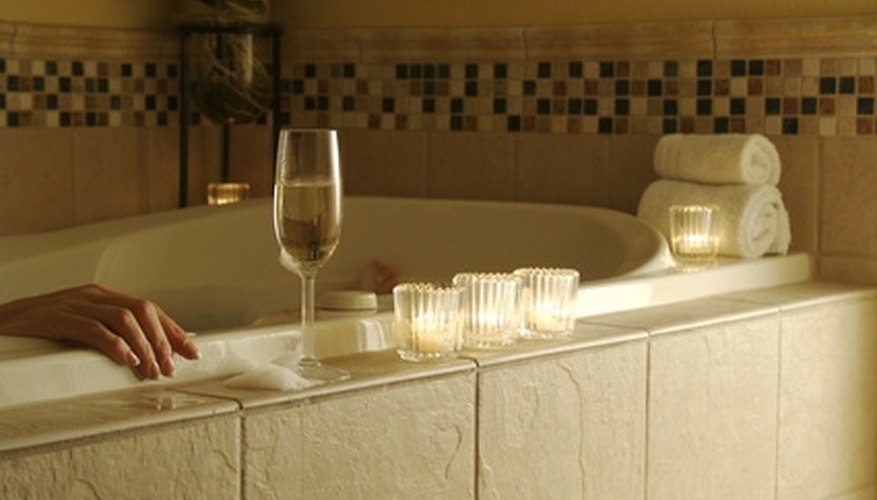 Planning to give someone a romantic bath as a gift requires attention to detail. Plan and shop in a way that speaks to them. You can do this without breaking the bank; to reduce cost, the most expensive items are not necessary. A large portion of your gift will be in your planning, preparing and setting the mood for a relaxing romantic bath.
The Container
Use a large basket, an attractive travel bag or tote. Add embellishment to make it more attractive and personal. Examples are ribbon, flowers, shells or simply lining the inside with a small towel or nice fabric. A card or note expressing your feelings is always welcome. Some people like to receive handwritten coupons that can be redeemed on the spot.
Shop Around
Visit local stores for scented bath oils, bubble bath, soaps, soaking crystals, shampoos, lotions and exfoliating scrubs. Look for lingerie that can be worn after her romantic bath.
Lighting
Lighting plays an important role in setting the mood. Hang a string of small lights in the bath area, dim the existing lights, or place small scented candles around the tub and bathroom.
Drawing the Bath
If you have a spa or whirlpool bath, or a tub with jets you may want to use it. Rose petals, floating candles and other waterproof sentimental objects can be added to the bath as well as the room.
Music
Place his favorite CD in the gift package or play it for him during his romantic bath. Music can be an essential element.
Food and Drink
Champagne, wine or even a cup of hot chocolate does wonders when relaxing and unwinding from a long, hard and stressful day. Place fruit or chocolates and other items around the bathroom on a silver or elegant glass tray. This will add sparkle and glamour.
Last but Not Least
Be sure that the bathroom is meticulously clean. A dirty bathroom is not comfortable and can dampen the mood. Warm towels and soft slippers are a nice after-bath accommodation.
View Singles Near You