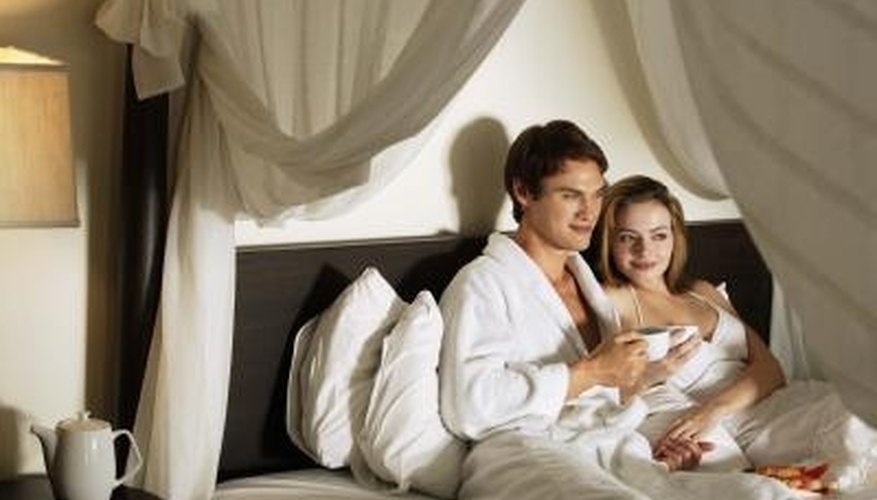 Bed of Roses
Capitalize off of the naturally romantic nature of flowers by making roses central to your bedroom decor. Select a rich, rose-print comforter to cover your bed. Echo the hues of the roses on this bed covering on your walls and in accessories, creating a deep red or crimson accent wall and placing similarly toned accents around the rest of the space. Place fresh or silk roses on your dresser or nightstand, finishing your romantic look.
Beach Vacation
While you may not be able to take a stroll along the shore with your lover, you can do the next best thing by turning your bedroom into a beach-styled escape. Select art work that features serene beach scenes. Use soft, sand-inspired yellows and deep, ocean-esque blues heavily in your space, painting your walls in one of these hues or a combination of the two. Feature seashells and starfish around your room, placing them against candles that you can light when your intimate night begins. To make the room as pleasing to the ears as it is to the eyes, purchase a sound machine or use ocean-sound music in the room.
Heavenly Delight
Create a space that is soft and reminiscent of a walk in the clouds. Use sky blue as your dominant wall color, adding clouds to the top of your walls, to create a heavenly border or placing cloud wallpaper on an accent wall. Hang white, gauzy curtains around your bed, separating it from the rest of the room. Select stark-white accent pieces that mimic the colorless clouds to finish your space.
Dark Chocolate Palace
Create a deep, decadent room perfect for a night of romance. Decorate your room in hues of brown, using dark chocolate brown as heavily as possible. Cover your bed with a dark brown bedspread and scatter pillows in complementary lighter browns and tans atop it. Paint one wall in your space a similar deep brown. Add a brown leather chair, love seat or footstool to add some textural excitement to the space. Add art work with trees, playing off their natural brown or geometric prints featuring similar hues.
View Singles Near You