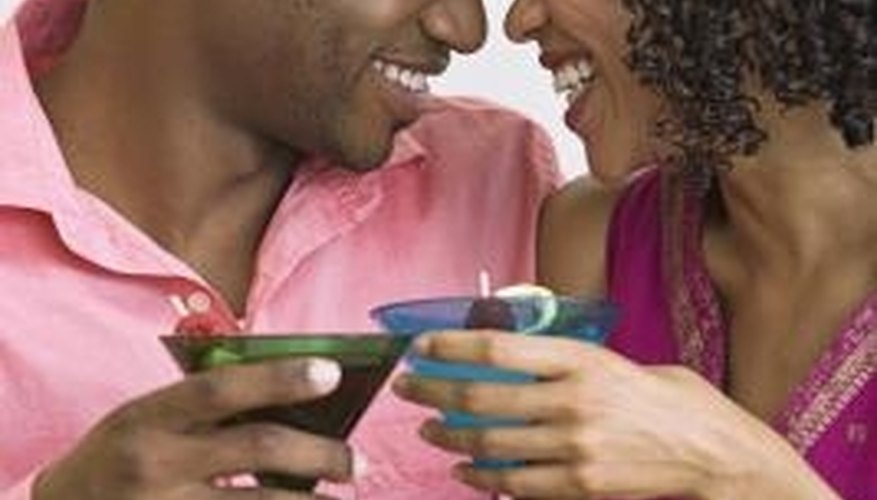 Letters and Photos
Small, personal gifts such as letters and photos can be romantic gestures for the man in your life on his birthday. Create a scrapbook of some of the most memorable photos of the two of you together. You can also take him on a scavenger hunt around town to create new photos of your most romantic times together, such as your first date and your first kiss. If you and your significant other don't normally write letters, write him a long love letter, telling him your feelings and how much your relationship means to you, as a special gift.
Homemade Dinner for Two
A romantic dinner doesn't have to be held at an expensive fancy restaurant. Make a special homemade dinner of his favorite foods, or try out a new recipe. Decorate your home with lots of candles and play some soft music in the background. You can even dress up if you want to make the dinner seem more special. End the meal with a delicious desert, some wine and dancing to top the night off. You will be surprised how romantic you dinner date will be, all while in the comfort of your own home.
Weekend Getaway
Plan a small romantic weekend getaway for the two of you to celebrate his birthday. Make sure the focus of the trip is to spend time together, not to see attractions, so pick a location with little to do or see. Plan on spending lots of time together, walking around the area you're staying in, trying new restaurants and spending quality alone time together. Try finding a town close enough to drive to, to save money on travel expenses.
Breakfast in Bed
Surprise the man in your life with a romantic breakfast in bed. Make his favorite breakfast foods and deliver them to him on a tray as soon as he wakes up. You can add a special romantic card or letter with his breakfast to signify how special the meal really is. Stay around while he enjoys his meal so the two of you can spend some quality time together before the day starts. This is sure to be a welcome romantic surprise that will be a great kick-off to his birthday.
View Singles Near You