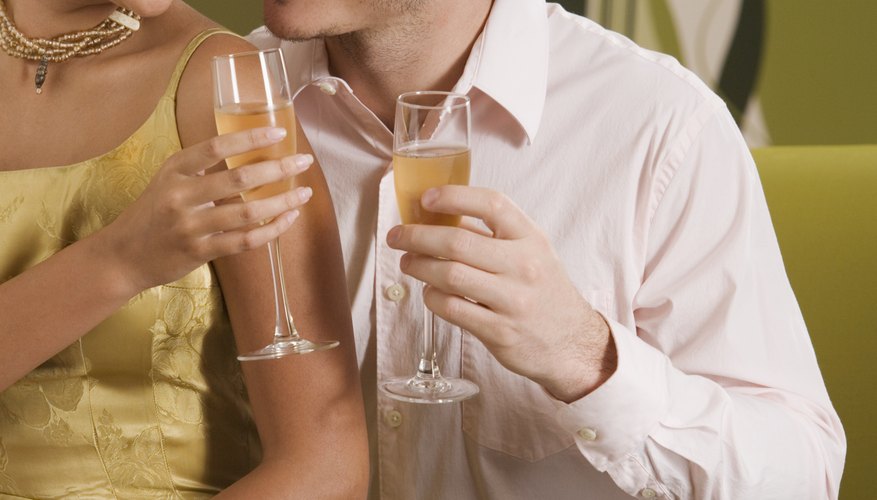 A Birthday Picnic for Two
If your partner's birthday falls on a weekday, sneak out of work early and set up a special indoor picnic for two for your sweetie. Move the furniture and cover the floor with a nice blanket. Place rose petals and candles around the house. Serve chocolate-covered strawberries and your love's favorite dishes. Have a nice bath with candles set up for the two of you to relax in after your dinner.
Famous Couples Throughout History
Throw a party for your sweetheart and your group of friends. Instead of a typical birthday theme, make it a couples costume party where guests have to dress up as famous couples throughout history. Guests can dress up as real couples such as Sonny and Cher, Antony and Cleopatra or James and Dolley Madison or as fictional couples like Jack and Rose from the movie "Titanic." Your significant other will appreciate all the time and effort that you put into planning a party this creative.
The Perfect Surprise
Plan the perfect surprise birthday date for the one you love. Tell your partner to get dressed up, but don't tell her anything else. Have a limo pick the two of you up. Eat dinner at a fancy restaurant she has been dying to try in the nearest city. After dinner go for a romantic walk near the water or buy tickets to a show or play that she has been wanting to see.
"I Love (Partner)" Party
Throw a party dedicated to how much you and your family and friends love your husband or boyfriend. Call the celebration the "I love (insert your partner's name here)" party. Decorate the party room with hearts and red balloons. Have all guests bring a picture of themselves and your partner together that you can make into a giant montage. Play videos of good times your significant other has shared with you or family over the years. Your love will melt at the idea of this thoughtful party.
References
Resources
View Singles Near You