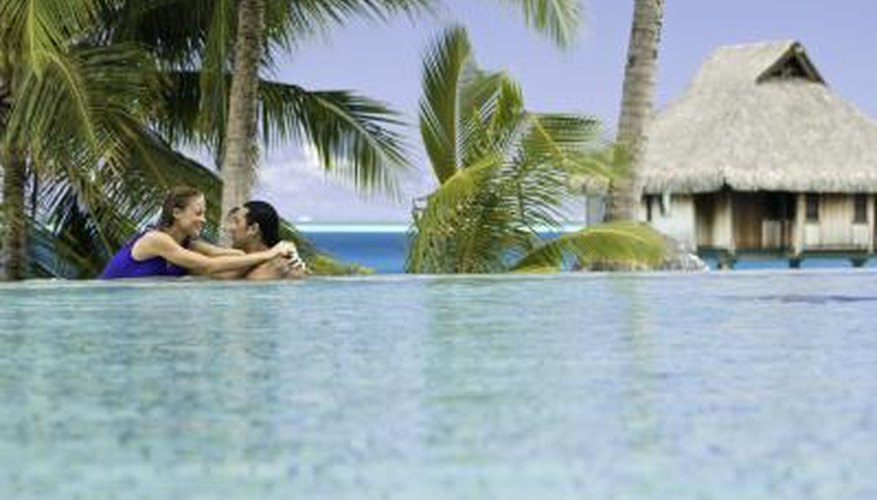 Cabanas with Top-notch Service
You don't have to sacrifice service for the privilege of a beach-front cabana. The staff at 9 Beaches Resort in Bermuda pride themselves on pampering their guests. The cabana-style rentals have all the conveniences of more mundane accommodations, but some of them are perched directly above the ocean, setting the perfect scene for romance. Each cabana rental includes the use of a private cell phone, allowing you to contact the property staff at any time; their portable food and beverage cart will be at your beck and call. Or opt for the tropical setting of Belize's Mopan River Resorts cabanas on the river, where you can purchase the "worry free" all-inclusive package. Enjoy the services of Mopan River's resident massage therapist or a guided "expedition" adventure.
Hide-away Resorts
If you and your sweetheart want to find your own secluded destination for your getaway in the Caribbean, try La Luna Resort on Grenada, a small resort where each couple enjoys the privacy of their own cottage, complete with its own pool. For couples who want to take seclusion a step further, the Mexican coast offers Eco Tulum Resort and Spa. The beach cabanas on this resort are all without telephones or even electricity, allowing couples to enjoy each other's company exclusively.
Affordable Cabanas
While going to an exotic location like the Caribbean will always be more pricey than taking a rustic camping trip or a road trip to a neighboring city, there are ways to make a romantic Caribbean getaway more affordable. The Coco Plum Island Resort, located on a private island off the coast of Belize has a "no frills" package starting at just $1,000 per person for a 4-night stay in an ocean-front cabana as of 2010. This package includes meals, kayak use, and transportation to and from the island. If you and your companion aren't in need of a 5-star luxury resort, consider something like the Natura Cabanas in the Dominican Republic, starting at only $160 per night. The price won't include meals besides breakfast, or activities, but between the sandy beach and nearby town of Cabarete, there won't be a shortage of entertainment.
View Singles Near You