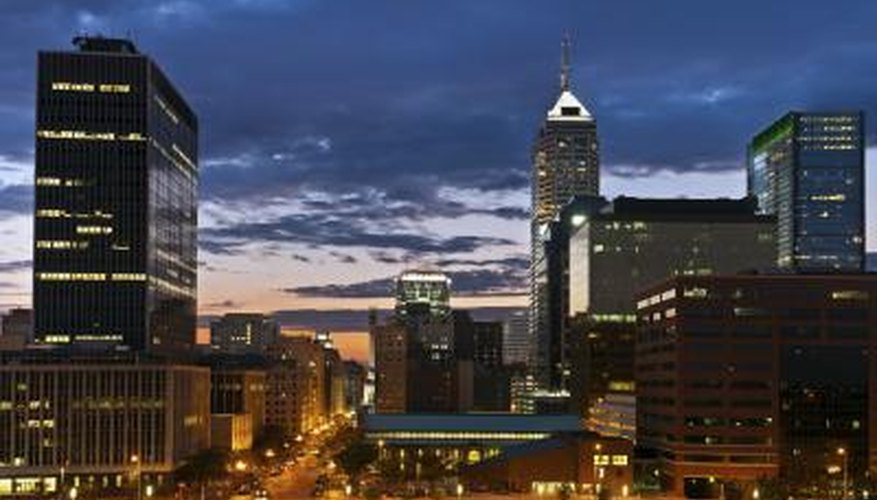 Candlelight in Colfax
Cabins and Candlelight is in Colfax, just 35 minutes northwest of Indianapolis. Unwind with your sweetie in the romantic setting, including 30 acres of farmland surrounded by forests and the trickling sounds of Sugar Creek. Once inside your cabin, warm yourself by the 15-foot-high stone fireplace, enjoy a leisurely soak in the two-person whirlpool tub or take in the sights from the covered porch. Indulge in a leisurely morning; all of the cabins come fully stocked with an assortment of breakfast groceries. In the evening, use the outdoor gas grill and dine under the stars. Retire inside for the night after borrowing a romantic comedy DVD or soothing CDs from the front desk staff.
A Walk in the Woods
Based 45 minutes south of Indianapolis outside the elevated town of Nashville, Indiana, Brown County Cabins are perched high in the hills near Bean Blossom Overlook. Set in 11 rustic acres of densely wooded grounds, the cabin sites -- all situated far apart -- offer glimpses of galloping deer and sweeping views of deep valleys and lush forests. Book a stay in the Anniversary Cabin where you can snuggle by the fireplace or watch the sunset from a private deck. Stay in the Covered Bridge Cabin and cuddle with your honey on the porch swing or relax in your private deck's hot tub. The cabin is also just a short walk from one of Brown County's romantic covered bridges.
Lakefront Love
Escape to the peace and quiet of Antler Log Cabins, a secluded 114-acre wooded region in Unionville, 55 minutes south of Indianapolis. Stay at one of the resort's eight cabins, all of which have views of the ground's five private lakes. The cozy Solitude Log Cabin is in the midst of the forest and has an outdoor deck where you can enjoy a romantic soak for two in a hot tub and an indoor fireplace where you can warm yourself as you play board games. Greet the day from the upstairs loft as the sun rises over Lake Solitude, viewable from the large windows, or watch dawn break from a peaceful, quiet front porch. Take a romantic ride on the lake in the rowboat or paddleboat included with your rental, or take a scenic drive to nearby Lake Lemon or Lake Monroe.
Nature Lovers
Just one hour south of Indianapolis, Back to Nature Cabins in Bloomington showcases a series of custom-made log cabins. Explore the 131-acre farmland as you take well-marked trails through sprawling open valleys. Settle in for a romantic stay at Elk Horn or Turkey Roost cabins, where you can enjoy private time on a wraparound porch, in front of a wood-burning fireplace or in a whirlpool bathtub or outdoor hot tub. Speak to the front desk staff beforehand about adding a bouquet of flowers to your cabin, ordering a couple's massage, making reservations at an intimate restaurant or securing private boat rentals for Lake Lemon and Lake Monroe.
View Singles Near You