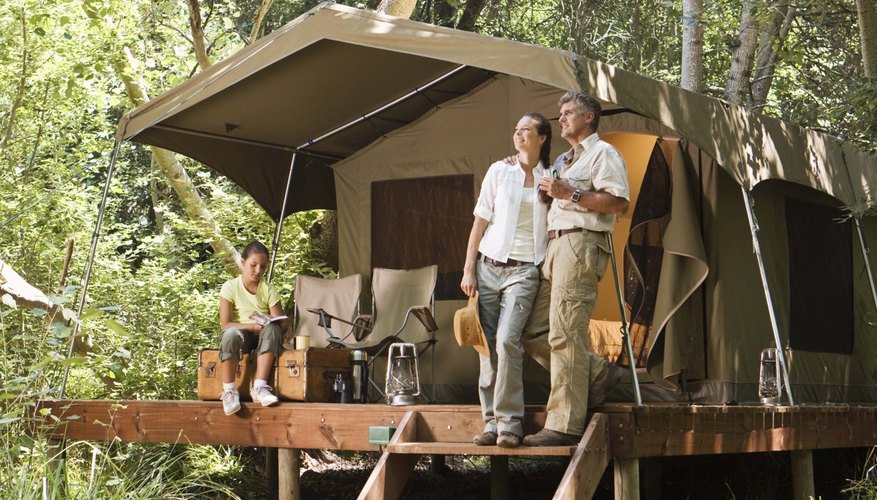 Backpacking
Backpacking is for the experienced and it is ideal for locating a remote camping site. Backpacking with a two-person tent allows you to walk far away from other campers and it provides all the romance and anxiety that comes with a true wilderness setting. Use two sleeping bags that zip together so you can cuddle and be prepared to make a romantic campfire. Spend the entire next day at the same site rather than venturing further into the wilderness. You can lounge and dedicate more energy to each other than to hiking.
Under the Stars
Camp under the stars on a warm summer night. The open sky encourages romance as you watch for shooting stars and enjoy the silence. The potential for a cool breeze also encourages snuggling in your sleeping bag. Be sure to create a well-padded bed to create a comfortable environment. Also start a campfire to add to the overall romance.
Resort Camping
Resort camping is not the most adventurous option but it requires very little planning. Resorts are available around the United States with furnished tents and tepees for couples. Many of the resorts also provide meals, shower facilities and laundry services. Resort camping is far from roughing it but it does create a relaxed environment that is ideal for romantic couples. You do not have to worry about tending to the camp and it is not labour intensive.
Hot Springs
Hot springs are available through resorts and on public lands. Set up a tent near public land hot springs and relax around the camp before and after soaking in the hot water with your partner. More remote hot springs that require hiking access provide more privacy, while resort hot springs provide lodging and services. Visit the hot springs during the middle of the week to avoid weekend traffic and increase the level of privacy.
View Singles Near You