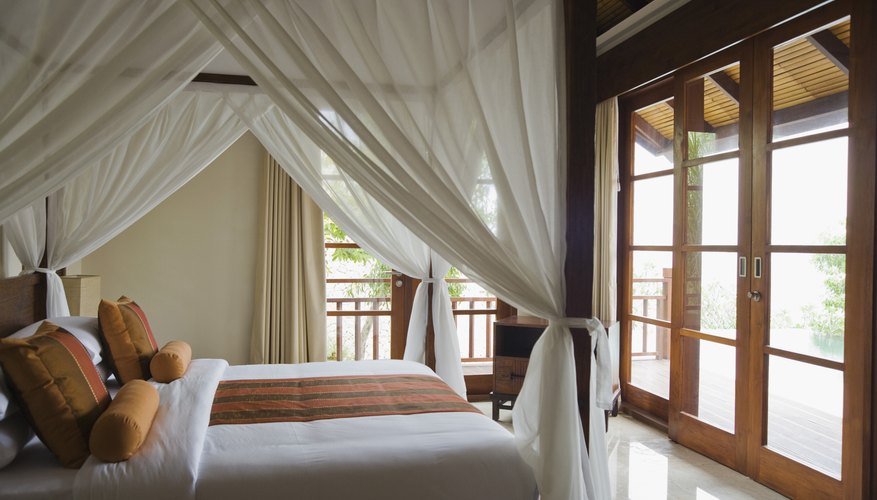 Bedroom
You don't need to have a canopy-style bed to enjoy the romantic look of a canopy. Install curtain rods to the ceiling, select your curtains and install over the bed. You can find canopy curtain rods and curtains in a variety of textures, colors, sizes and designs. Search major retailers as well as online retailers for ones that suits your tastes. Choose from silk, satin, velvet, sheer lace or black-out curtains for the ultimate experience in seclusion.
Pergola
Transform your backyard pergola into a romantic outdoor oasis, such as those found at Caribbean resorts. Add a flowing, semi-transparent white canopy to provide comfortable shade as well as some privacy. Replace lawn furniture with a soft gazebo loveseat or lounge chair. Add other furnishings and decorative accents such as a coffee table, ice chest, pillows or install surround sound speakers and mood lighting to enjoy your outdoor retreat at night as well.
Patio
Enjoy the comforts of a comfortable bed while lounging by the pool in an outdoor canopy bed. Choose from a lavish all-in-one canopy bed designs or purchase an outdoor bed and build a custom canopy. Many outdoor beds come with a built-in canopy. Draw back the canopy and soak up the sun, take a nap or relax with your sweetheart. Then, draw the canopy close for a little bit of solitude. Add comfortable pillows and a throw blanket and watch the stars put on a show.
Backyard
Whether hosting a party indoors or out, a canopy adds a soft, dreamy touch. Use a canopy to soften the lighting, provide protection from the sunor to transform a marriage altar to a festive arch of flowing fabrics, flowers or balloons. Add decorative accents such as tulle, or hang crystals, a chandelier or strings of light to keep the party going.
View Singles Near You