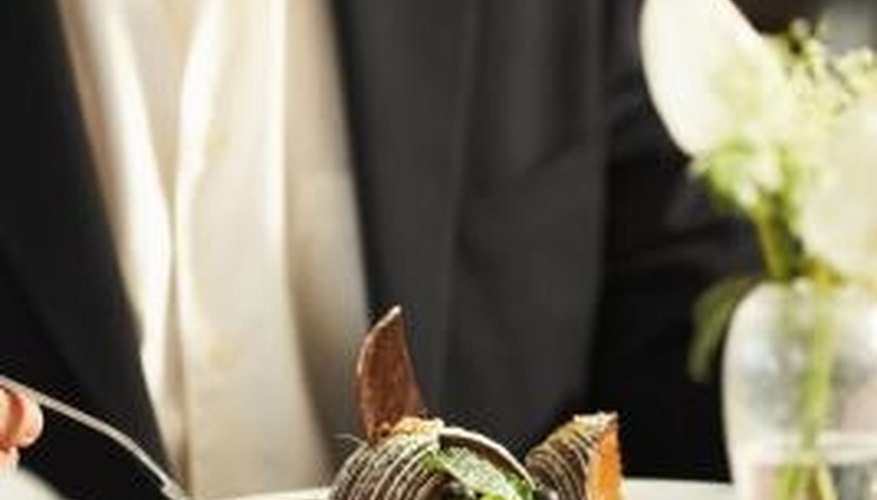 Chocolate Coins
Chocolate coins often delight little boys and they can delight bigger boys as well. Purchase a pound of foil-covered chocolate coins for a dramatic gift that can be romantic if it includes the right sentiment. Put them in a velvet bag and include a card inscribed with a message such as "Money can't buy your love, but I'd like to try," or "You're worth a million, baby!"
Homemade Chocolate Pie
If you want your guy to conjure up a domestic image of you puttering happily in the kitchen, bake him a chocolate meringue pie. If he's not a kitchen sophisticate, he'll be intrigued by the drama of the meringue and convinced that you went to an awful lot of trouble - all for him. For bonus points, make a flaky, buttery crust from scratch. When your masterpiece is finished, place it in a pie box and add a bright red bow for maximum effect. To up the romance factor, feed a piece to him bite by bite after he opens your surprise.
Hot Chocolate
There's not much more romantic than being cuddled up with your sweetie on a cold night while sipping hot chocolate together. Purchase a handmade, rugged basket he'll be able to reuse later and fill it with a variety of flavors of premium hot chocolate. Open a bag of marshmallows and repackage some in a cellophane bag that's decorated with hearts. Place these in the basket along with the hot chocolate. Don't forget to include two mugs! After all, you'll want him to share.
Gourmet Truffles
Creating or purchasing truffles shows a chocolate-loving man you've noticed that he enjoys the finer things in life. Buy him a variety of truffles, as they come filled with everything from nuts to fine liqueur. If you're the DIY type, you can make truffles at home. Doing so is a relatively simple matter of combining chocolate and cream in the right proportion and adding a delicious filling. Finish your gift up by packaging the truffles in an elegant box and adding a beautiful ribbon.
View Singles Near You