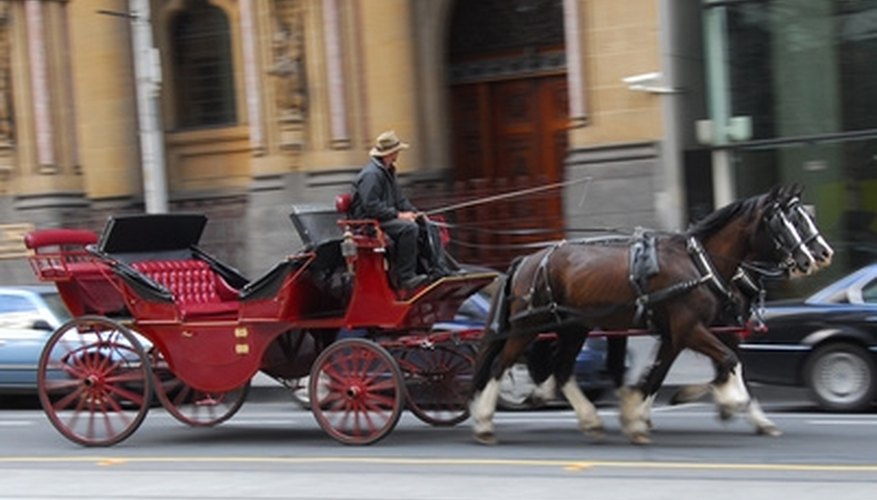 Carriage Ride
Yes, it's corny -- but it's still romantic. If there are horse-drawn carriages for hire in your town, take a ride with your love. Bring a furry throw for your laps (it's February, after all), a bottle of champagne and two crystal flutes. For a more elaborate date you can arrange ahead of time for the driver to take you someplace specific, or for a small bouquet of violets to be waiting on the seats -- or for a scheduled stop at a prime picnic spot. This date works at night or in the daytime. Remember to bring your camera.
Memory Lane
Take your date on a tour of the places that have been important in your relationship. Drive past the school where you first met, walk along the beach where you had your first date, have lunch in the restaurant where you shared your first kiss. You may have to travel for this one, if you aren't still living in the same home town; the longer you have been together, the better this date will work. Bonus: This date is a great lead-up to a marriage proposal.
Carpet Picnic
Don't let the fact that Valentine's Day comes in the wintertime stop you from enjoying your vision of a romantic picnic -- just move it indoors. Spread out a blanket on the living room floor and set up your favorite summer finger foods -- think cold fried chicken, sandwiches and chocolate-dipped strawberries. Play a CD of nature sounds or soft music in the background. If you have a fireplace, toast marshmallows for dessert. Get a fireplace DVD if you don't have a fireplace so you can enjoy the crackling flames of an ant-free "campfire."
Wet Kiss
Almost everyone is within reach of an ocean, a lake, a river, a pond or some sort of body of water. Take advantage of this fact and take your love boating on Valentine's Day. Go upscale on a sailboat or a yacht, if you have access to one and you know how to sail it. Otherwise, rent a canoe or a raft and paddle around aimlessly for an afternoon. Bring a picnic lunch, and don't forget the candles; pack battery-operated votive candles or lanterns if you're worried about upsetting real flames. Tuck a book of love poems into your pocket and read a few aloud to complete the romantic picture.
View Singles Near You