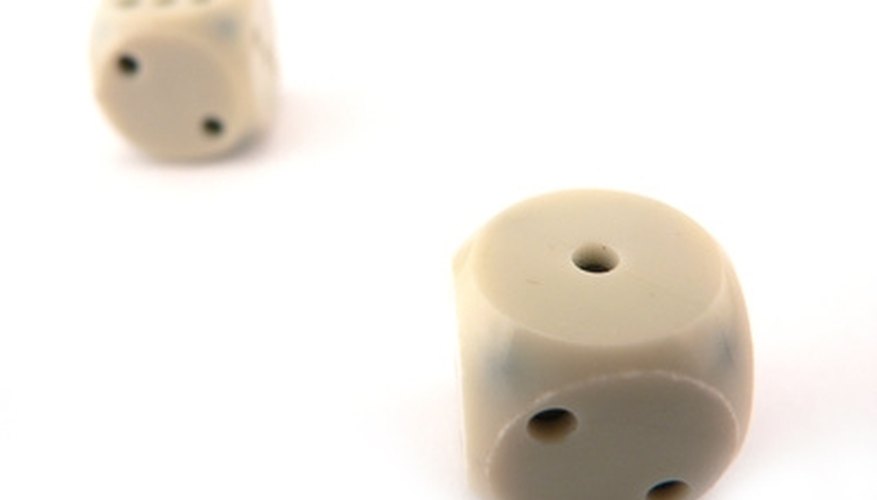 Dice Games
Make two lists, one with body parts, for example, mouth, shoulders or neck; and another list with actions, such as kiss, squeeze or lick. Take turns rolling the dice and matching up the numbers. You can also incorporate places into the second list like the kitchen or the hallway. For example, you can "kiss" in the "kitchen" or "massage" in the "bedroom." You can also purchase love dice, with words written on them instead of numbers.
Board Games with Dice
Make your own board game using flat cardboard or heavy-duty stock paper and a marker. Draw out a game board and on each square and write an action. You can write "slow dance," "kiss on the neck" or "recap a memory." Use small toys or player pieces from other board games as pawns. Roll the dice and move to the correct square. Create a fun prize for the winner, for example, the winner can choose where to go on Saturday night or what to eat for dinner.
Additional Ideas
Practically any game with dice can be turned into a romantic game or even a "strip" game. You can replace traditional game rules with your own personalized rules, creating a romantic theme. For example, substitute Trivial Pursuit questions with questions about each other. Barter for Monopoly property using more than just fake money by trading romantic favors. Play Yahtzee and place a bet beforehand; whoever wins claims their romantic prize. For directions on how to play Yahtzee, visit howtoplayyahtzee.com.
View Singles Near You