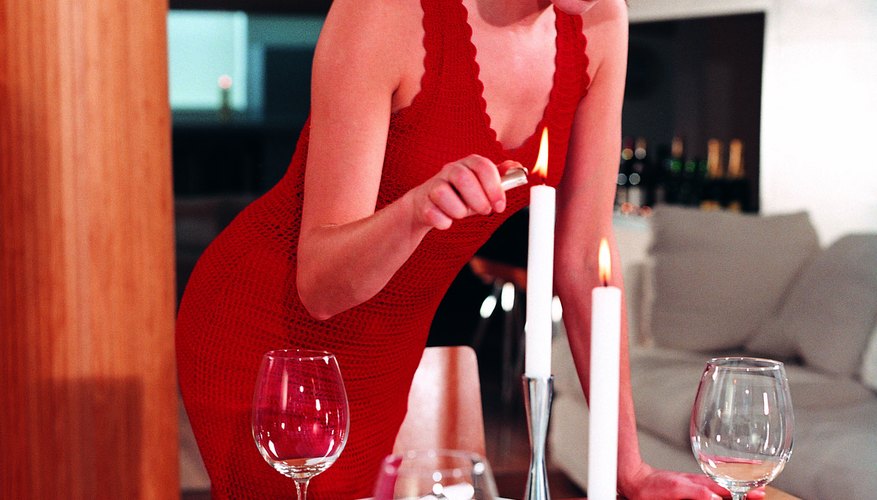 Step 1
Plan your special date night several days, or if possible weeks, in advance. It might seem like the antithesis of romance, but planning a stay-at-home date night around your child's peewee football game or a friend's dinner party can make the rendezvous a reality.
Step 2
Plan the menu ahead of time. Choose a meal that is quick to prepare and has nothing to do with your kids. For example, a nice chicken breast over a spinach salad is a great meal to enjoy over a glass of wine. Conversely, chicken nuggets and juice out of a plastic cup probably won't set the mood you're after.
Step 3
Run your kids ragged during the afternoon of your planned date night. Take a trip to the park or visit a local zoo. Do whatever you can to zap every last ounce of energy out of your kids. Once you're home, give them a soothing bath and read them a book before walking away and watching your little angels drift off into dreamland, or the more realistic picture of screaming kids avoiding sleep at all costs.
Step 4
Set the mood for your romantic dinner. After the kids are finally asleep, light a few candles, put on a jazz record and begin enjoying your evening together. You might want to shout from the rafters how much you love one another, but instead try keeping your evening as quiet as possible.
Step 5
Prepare yourself for the inevitability that one or all of your children will interrupt your romantic dinner. If this is the case, decide beforehand which of you will quickly usher the little one back to bed. Don't get upset or angry with your child, and instead calmly lead your toddler or preschooler back to his bedroom and tell him it's time for bed.
Step 6
Clean up the dishes, lock the front door and end your ideal romantic evening at home. Head to your master bedroom and enjoy the company of your spouse behind locked doors, or just give in to the exhaustion and give one another what you both really want: a good night's sleep.
View Singles Near You