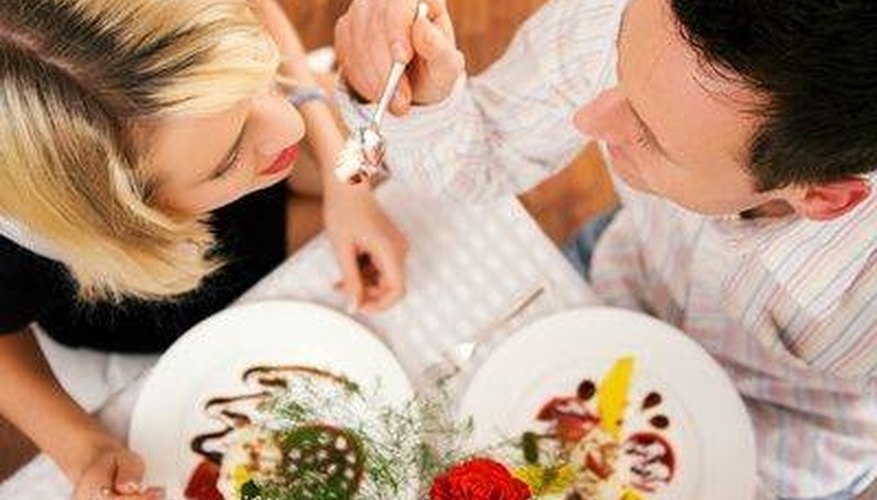 Planning
Send a formal invitation or plan a surprise romantic dinner. Plan a meal that features high-quality ingredients and simple food. Do not experiment with complicated or difficult recipes that you are not familiar with. The focus of the dinner should be on the companionship with the food complementing the romantic connection. Be prepared to spend the necessary money to purchase high-quality main dish ingredients. Whether it is poultry, fish or meat of some kind, the quality should be excellent. If dessert will be served, choose a classy and light dessert that is easy to prepare and will complement the meal you are serving. Plan a meal that can be prepared in advance as much as possible so that it won't be necessary to hover in the kitchen before the meal is ready to be served.
Preparation
Do as much work before the romantic date as possible. All of the chopping, dicing, mincing and preparation work can be done early and the ingredients can be organized in small bowls for last-minute assembly, if necessary. If you want special touches like fancy garnishes or warm plates, do these things ahead of time so that they appear effortless in front of your guest. Be sure to have a clean kitchen work area to work in and clear away debris as you go also.
Presentation
Place a tablecloth on the table. Use your best china, silverware and cloth napkins. Arrange a simple centerpiece on the table. Dim the lights. Place candles on the table and around the room. Play favorite music softly in the background. Wear an outfit that is comfortable, attractive and alluring. Serve wine that complements the meal. All of these touches will contribute to a romantic atmosphere.
Make your guest feel comfortable and serve the meal in courses. Serve a simple appetizer and then an attractive salad. Clear away the used dishes and silverware to keep the table uncluttered. Serve the main course and linger over the meal so that it is savored and enjoyed.
Clean Up
Minimize the clean up by removing the dishes as you use them. Place them out of sight in the kitchen and try to keep the dining area free of clutter. Keep the candles burning and linger over wine, if desired.
View Singles Near You