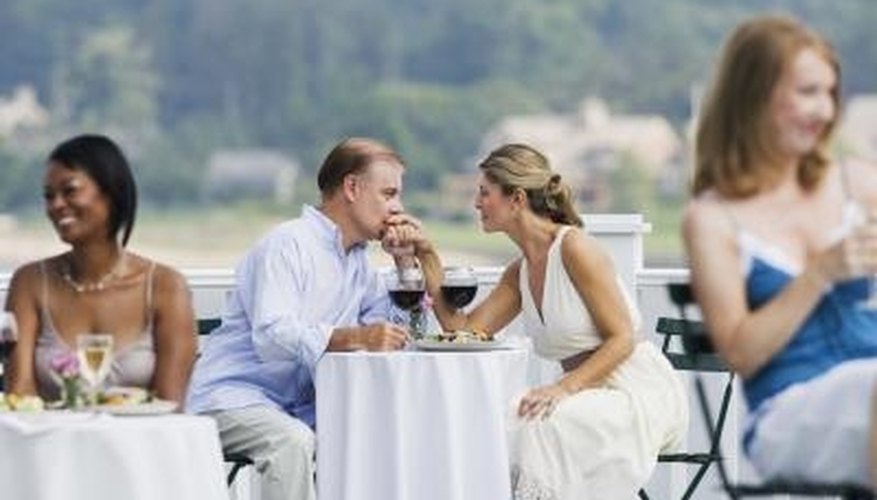 Beach
Having dinner for two at the beach or pier is a wonderful setting to have a romantic dinner with someone you care for. Start by deciding upon a beachside restaurant that serves your partner's favorite foods. If your partner enjoys having fresh seafood, take him to an upscale restaurant that can accommodate a romantic dinner for the two of you. From a view of a the ocean to having candles at your table, ask the restaurant's staff what they can do to make your dinner setting even more special for the two of you.
Rooftop
If you and your partner love the sights and sounds of a thriving metropolitan area, you may wish to have a romantic dinner on a city rooftop. Start by gathering the necessary tools for the dinner, such as a small table, serving table, candles, flowers, lanterns, silverware and tablecloth. Now you can surprise your partner by treating the evening like any other night, grab dinner and seem as if you two are heading home like any other night. Instead, take her to the rooftop and show her what you have set up for the two of you, then serve the food and enjoy the romantic dinner setting with the person you love.
Garden
If your partner enjoys the smell of fresh air and flowers, organize for the two of you to enjoy a romantic dinner in a garden setting. Start by locating a local garden, and reserve a location for your romantic dinner. Now prepare for your date by gathering items such as a dinner table, tablecloth, candles, silverware and foods the two of you will enjoy. You can even make your dinner date even more special by blindfolding your partner from home until you are ready to seat him at your garden dinner for an added surprise factor.
Airport
If you and your partner enjoy the sights of airplanes taking off as your romantic dinner setting, share a romantic dinner there. Many airports, both large and small, include restaurants with a view of the landing strip. You can add an additional element of romance by going on a short plane ride overlooking the city afterward.
View Singles Near You