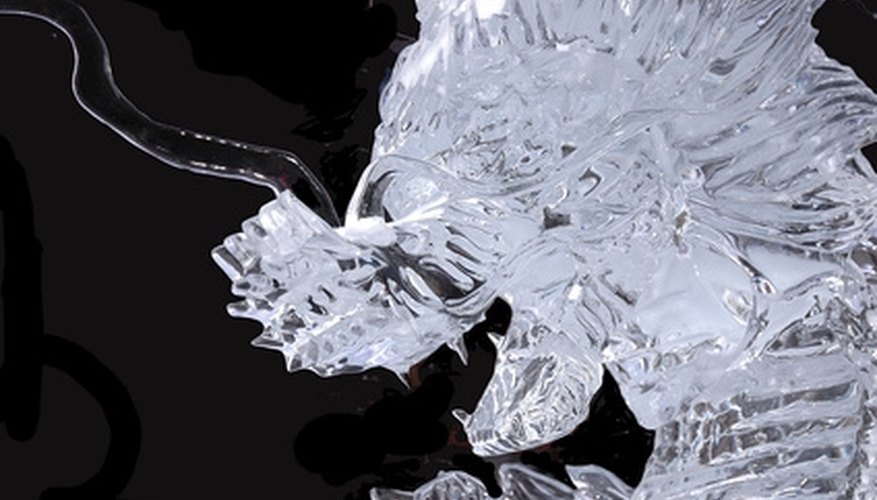 Narrow down your dragon theme to something more specific. For example, the Chinese dragon and phoenix symbolize the bride and groom. A whimsical dragon could accompany a knight in rescuing his princess, or be defeated by the knight. Dragons and fairies can occupy an enchanted forest of love. Sticking to a basic dragon theme will tie each element of your wedding together.
Send out invitations with an imprinted image of a dragon. Use a gold dragon and phoenix for an Asian-themed wedding, a pair of dragons entwined or creating a heart shape with their necks and heads or a beautiful dragon surrounded by flowers in a forest setting. Use language that complements your theme, such as Old English for a medieval theme.
Use dragon images on your wedding attire if you desire. A dragon and phoenix brocade print could be used to create the wedding dress or a tunic for the groom. Or simply include a dragon-clad sash or have a dragon embroidered on the dress or cloak.
Decorate your reception with dragons. Large dragons in the form of pots, crystal or ice sculptures can serve as your centerpieces. Include flowers, such as roses, orchids or lotus or cherry blossoms and candles with your dragons to create a romantic effect. Place a small dragon figure made of crystal or pewter with encrusted gemstones at each place setting as a favor.
Hang softly lit paper lanterns with dragon images on the sides or a large dragon made of paper or balloons. Generously use dragon-shaped candles or candle holders to create a romantic glow throughout your reception venue.
Use your wedding cake as a main decoration. Include your dragon image or a cake topper that plays into your dragon-themed fantasy wedding. For example, a castle cake topper with a knight and princess can have a dragon slinking up the side of the cake; or falling from the castle if you prefer. Have a dragon and phoenix hand painted around the cake with fondant or icing.
Tip
Narrow down your color palette to keep things simple and connected. For example, us red, gold and black for an Asian-inspired wedding or blue for a renaissance wedding. Candles and flowers will tone down the dragon theme, creating a romantic ambiance.
View Singles Near You