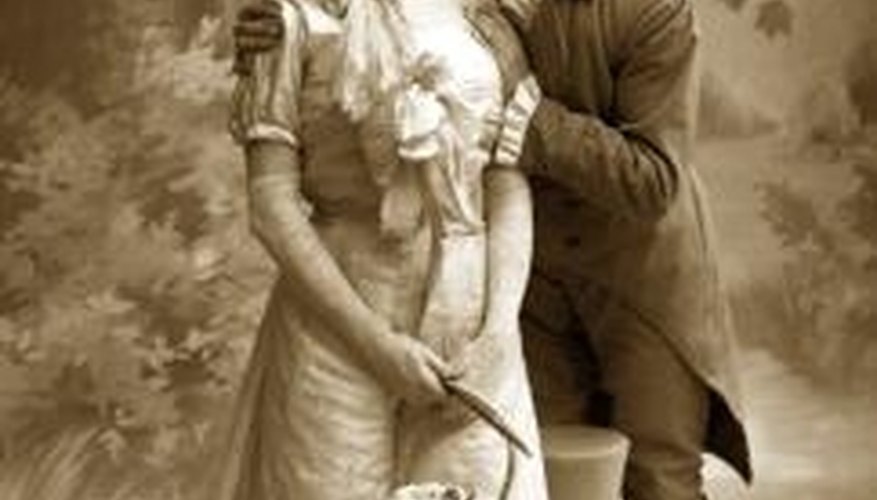 Film
Romance in cinema has appeared in several film categories. "Chick flicks" are often weepies with characters that ooze sentimentality; they feature plot lines that cater to stereotypical female desires, including happy endings, an impossibly dashing and passionate male lead, and overt woman-to-woman togetherness. "The French Lieutenant's Woman" and "The English Patient" are classic examples. Epic films such as "Titanic" and "Gone With The Wind" use romance, as do films from auteurs such as Jean Renoir ("Une Partie de Campagne").
Television
Romance can appear in many genres of televised entertainment. Soap operas, for example, often feature romantic story lines to buttress their melodramatic content. Yet many of them have been cancelled by networks, giving way to "prime-time soaps," less syrupy television dramas such as "Grey's Anatomy" and "True Blood." Shows in this vein have incorporated romantic elements as well. The serial element of televised storytelling frequently translates into a romance's being stretched out over episodes, if not seasons, of a program. Producers and writers may tease audiences with a love story to secure their sustained viewership.
Literature
Romance has factored as a definitive feature for several works of classic literature. "Wuthering Heights," "Pride and Prejudice," and "Dracula" all demonstrate strains of courtship and passionate love. Arguably, the most famous work in literature boasts the players of its amorous relationship in its title: "Romeo and Juliet." Differences in class and station characterize traditional literary romances, exampled by "Pride and Prejudice's" Elizabeth Bennett and Mr. Darcy. Unsurprisingly, novels with such commanding romances as these are often selected for cinematic renditions.
Theater
"Romeo and Juliet" aside, the famed playwright Shakespeare infused romance into several of his other famed dramatic works, including "Macbeth" and "Troilus and Cressida." The opera genre has also made strong use of romance. Puccini ("Madame Butterfly," "Tosca") and Verdi ("Aida," "La Traviata") crafted several works in which romance figures importantly into the plot. The most well-known opera to feature great romance might be "Carmen," written by Georges Bizet and premiered in 1875.
Resources
View Singles Near You