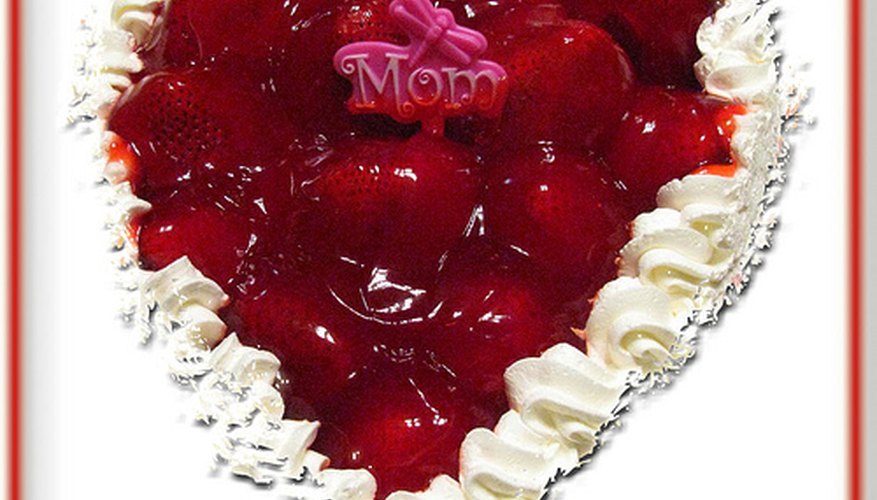 Classic Fruit Desserts
Laying under the stars, in front of the fireplace, or even on the couch with your partner after a nice dinner by candlelight calls for a romantic dessert you can feed each other as you revel in your love for each other. Chocolate-covered cherries are a tried and true romantic dessert. Another classic option is strawberries. You can dip them in warm chocolate sauce or whipped cream, or have chocolate-covered strawberries. Pluck grapes right off the vine for a naturally sweet option. Figs are another option. Bananas can be cut into small slices and topped off with chocolate, whipped cream, cherries or all of the above. Consider a fruit cocktail including small slices and cubes of pineapple, passionfruit, peaches, kiwi, mango, apples, watermelon and pears. Share bowls of chocolate, caramel and whipped cream to dip the fruit in for a more decadent effect.
Miniature Renditions
Cheesecake in your favourite flavour, whether it's New York style, strawberry or chocolate, can be cut down into bite sizes. To get really romantic, try cutting the cheesecake into small bite-sized hearts instead of squares. Miniature bite-sized cupcakes can also be created in any flavour with pink or red frosting. Try using red velvet cake mix. Smaller eclairs make nice romantic finger food desserts as well. Small cookies are another romantic favourite, particularly if they are decorated as hearts, or your initials are drawn on the cookies with frosting.
Although it's not technically a finger food, you can feed each other rich mousse that is served in shot glasses. Truffles are another idealistic option. Finger-sized tarts and pastries can be made utilising drizzled chocolate, rich creamy fillings and raspberry or strawberry sauce. Chocolate-covered marshmallows offer another choice.
Natural Aphrodisiacs
According to Ava Cadell, pumpkin pie and cinnamon are both aphrodisiacs for men. Men are said to become more stimulated as well as experience increased blood flow to their genitals by the mere smell of both, so try bite-sized pumpkin pie bits topped with whipped cream. Likewise, the smell of chocolate and melon are supposed to stimulate women, while liquorice is said to actually increase oestrogen and oxygen flow to a woman's genitals. Vanilla is another stimulating scent, so try a dessert such as vanilla-flavoured cake or bite-sized ice cream sandwiches.
Oysters are another finger food believed to work as an aphrodisiac. Although they aren't typically thought of as dessert foods, you can share them as a dessert if you desire.
Resources
View Singles Near You