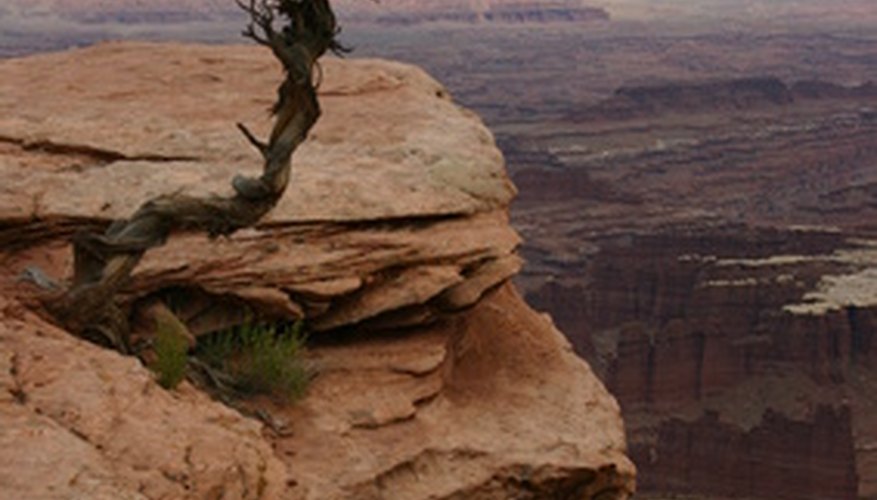 From Phoenix to Sedona to the Grand Canyon itself, every couple can find a location to match their interests. Whether you prefer a day spent touring the city and relaxing at a spa or prefer the rugged outdoors and want to hike up and down the rocky trails, there's a city for you. Stay at one of the many lovely bed and breakfasts or hotels available. With scenic views from the rooms and charming decor you'll find each one to offer a special romantic atmosphere.
Sedona
Located under the rim of the Colorado Plateau, Sedona features a wide sweeping landscape full of cliffs, rock formations and other natural wonders.
Temperatures average in the 70s according to Visit Sedona. com, and the weather stays warm and sunny without the scorching heat found in other areas of Arizona. Nature lovers will enjoy hiking and rock climbing while those who prefer to stay indoors will find a fine selection of shopping areas and restaurants. Couples can take a jeep tour of Native American ruins, visit Hopi reservations or choose to tour Verde Valley. Bed and breakfast hotels are available for a comfortable romantic retreat, such as the Sedona Views Bed & Breakfast. This cozy bed and breakfast features spacious rooms with patios or front porch areas, private entrances and scenic views of Red Rock. Sedona Views Bed & Breakfast 995 N. Hwy 89A Sedona, AZ (800) 201-1944 129556. yourwebsite. cc/index. php?page_id=35
Phoenix
Phoenix presents couples with a city in a desert, complete with large green cacti.
Those who love the outdoors and those who want an indoor romantic day at a spa or shopping will both find what they're looking for in Phoenix. Everything from hiking to visiting art galleries is possible. Couples will enjoy staying at one of the many resorts such as the Arizona Biltmore. It offers swimming pools to cool down in and gardens. Spas, golfing, tennis and daily activities will keep you entertained. Those looking for a cheaper place will find many quality hotels in the area, or the adventurous might consider spending the night on a dude ranch. Arizona Biltmore 2400 E. Missouri Ave. Phoenix, AZ 85016 (800) 950-0086 arizonabiltmore. com
Grand Canyon
Of course if you mention Arizona you have to mention the Grand Canyon.
The Grand Canyon is the perfect retreat for couples who enjoy the outdoors and want to go for a hike or simply stand at the top and take in the deep valleys and intricate rock formations below. You can ride a mule down into the canyon, hike the trails on foot and even white water raft. Tour guides are available to show you around and tell you the history if this is your first time visiting. At night try staying at the famous El Tovar Hotel. With its rustic charm and location near the southern rim of the grand canyon you'll have much to explore together. Consider a suite with a view overlooking the canyon or a cheaper room away from it so you can take a walk and see the sights. A dining room provides delicious foods for both breakfast, lunch and dinner. El Tovar Hotel Grand Canyon National Park South Rim Grand Canyon, AZ? 86023 (888) 297-2757 grandcanyonlodges. com/el-tovar-409. html
View Singles Near You