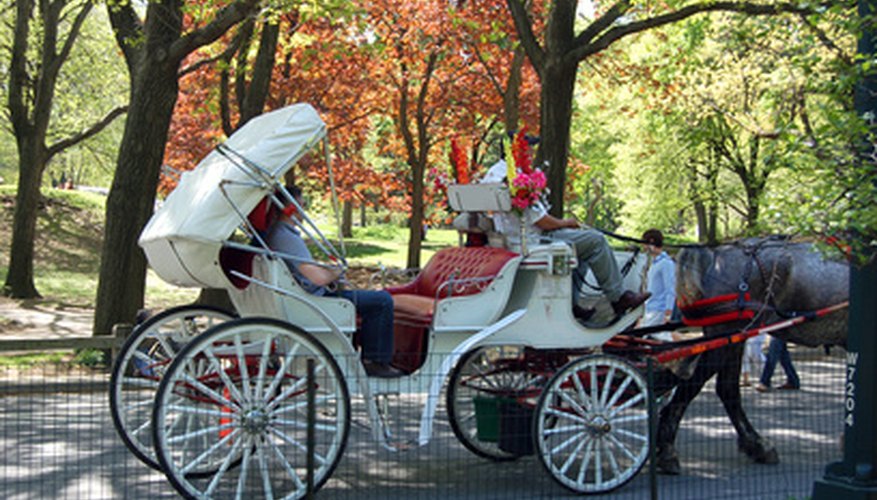 The slow paced jazz culture, balmy temperatures and authentic cuisine make it a favorite couple's destination. The city's old charm is the perfect settings for a carriage ride, a hand-in-hand evening stroll, a dinner cruise or swaying to the intoxicating jazz music at a night club. Many couples head to New Orleans for a relaxing and romantic weekend getaway.
Horse and Carriage
For many years the primary means of transport was the horse and carriage.
The French Quarter is best seen seated from a carriage. The area's storied architecture is predominantly 19th century and is well preserved. Carriages can be hailed from the Decatur Street side of Jackson Square at all times of the day. A horse and carriage ride is particularly romantic at night when New Orleans wakes up. Roll past sidewalk musicians and street performers on cobbled roads while enjoying the rustic charm of the French Quarter under the stars. The Good Old Days Buggies Inc. 1229 Saint Thomas Street, New Orleans, LA 70130-4021 504-523-0804?
Jazz Dinner Cruise
Savor smooth jazz on New Orleans' only steamboat, the "Steamboat Natchez.
" Cruise past the New Orleans skyline and along the Mississippi River as the sun dips below the horizon. Dinner is a buffet of authentic Cajun and Creole cuisine, and the bar is open during boarding and after dinner. Feed each other forkfuls of savory shrimp creole, spicy jambalaya and Ghirardelli's triple chocolate brownies. The Steamboat Natchez 400 N. Peters Street, Ste 203 New Orleans, LA 70130-1037 800-233-2628 steamboatnatchez. com
The City Park
Prepare a wine and cheese picnic basket to enjoy at the City Park in the heart of New Orleans.
The park is the pride and joy of the locals, and hosts over 11 million visitors every year. The park also is home to the Sydney and Walda Bestoff Sculpture Garden and the New Orleans Museum of Art. Original artworks are sprinkled throughout the park for all to enjoy. The sculptures can be seen from the meandering footpaths and bridges. Immerse yourself in the local art or wander the gardens at this romantic locale. Rowboats are available on a first come, first serve basis when the temperature is above 60 degrees. Stroll under the massive oak trees in the park, which date back over 600 years. City Park 1 Palm Drive New Orleans, LA 70124 504-482-4888 www. neworleanscitypark. com
View Singles Near You