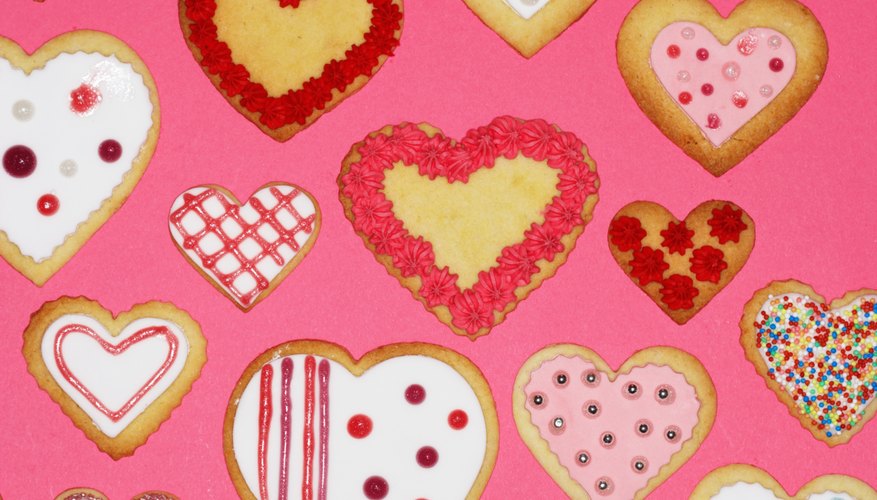 Fortune Cookies
Writing your own fortune is part of the fun when giving the gift of personalized fortune cookies. Companies allow consumers to choose what they want written as the "fortune." It can be "I love you" or even "Will you marry me?" The cookie itself can be plain or dipped in chocolate and covered with sprinkles, or the cookie dough can be flavored as cherry or strawberry.
Cookie Bouquet
Cookie bouquets can be baked to order with personal notes written on them in icing, and they can be arranged like a bouquet of flowers in a glass vase. Or, they can be wrapped up in a box and presented as a present to your loved one. Cookies can also be presented with milk and a set of glasses for pouring to make this a themed present.
Specialty Cookies
Bakeries such as Mrs. Fields offer cookie gift baskets and giant decorated cookies as presents. These can easily be boosted to add a flair of romance. Heart-shaped cookies in a basket with other romantic items such as massage oil or candles can make a heart melt. Or you can say what's on your mind on the face of a giant cookie or a "decorated cakie," as Mrs. Fields likes to call it.
Use the Ingredients
Martha Stewart suggests using the ingredients that make up your loved one's favorite recipe to create a fun, romantic gift. Layer all of the ingredients in a container -- one suggestion is to use something similar to a Ball jar -- with the recipe attached. Names such as "Lovers Lane Lemon Bars" or "Seductive Sugar Cookies" can bring a smile to the face of the receiver. It's also handmade, so you can say it's been "crafted with love." Bake the cookies together for date night.
View Singles Near You