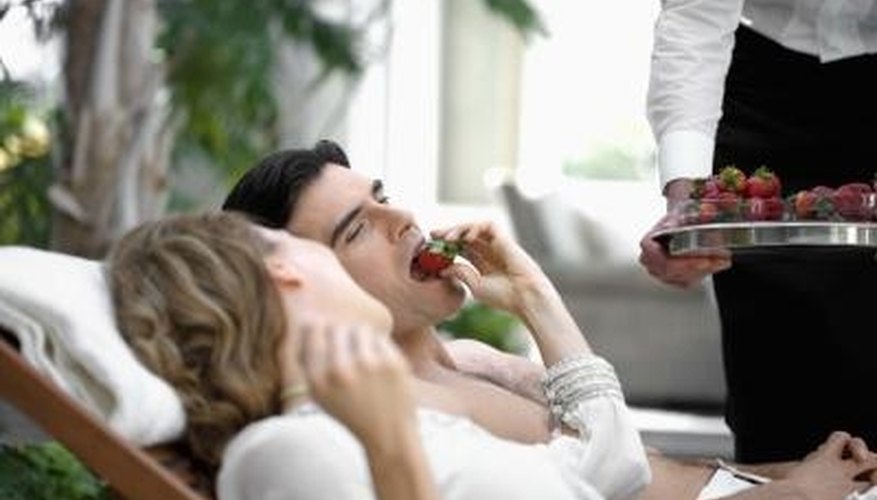 For the Kitchen
Follow the sage advice that says "the best way to a man's heart is through his stomach" and get cooking whipping up his favorite meal. Get a sitter for the kids, unplug the phone, put on some relaxing music and surprise him when he comes home with a romantic meal, set for two. If he enjoys cooking, surprise him with two passes to a local cooking class that the two of you can enjoy together. If he's a grilling enthusiast, fill a grill basket with his favorite spices, meat rubs and hard-to-find marinades that you think he'd enjoy using.
For the Bookworm
If your man constantly has his nose in a book, he may appreciate you delivering a romantic poem to him. Search poetry books or start with a few common love poems until you find one that expresses how you feel about your guy. Write it inside a card and put it in his sock drawer or somewhere else where he will be surprised to find it. Or, memorize the poem and recite it to him one night when the two of you have some alone time together. You may even recite a poem by one of his favorite poets as a romantic gesture.
For the Bedroom
What man doesn't like a little something out of the ordinary when it comes to the private time you two enjoy together. Make your next night together interesting by surprising him with a romantic yet fun spin-the-bottle for grownups game. You can purchase the game online or make one yourself with a clean bottle of his favorite beer filled with popsicle sticks. Write a message on each stick with simple commands that range from G-rated requests like "Share one thing you enjoy about being with me" to more racy things you know he'll enjoy.
For the Road
If your guy is going away on a trip, send him off with a romantic care package that will remind him of your love while you are apart. Include a mixed CD of songs that express your love or that have significant meaning to you both. Wrap a small, framed picture of yourself and include it in the package along with a handwritten love note. Take the note one step further with a love journal. Fill a journal with photos and memorabilia as well as magazine pictures that represent things you want to do together. Glue the items to the journal pages in a creative way, leaving space to write anecdotes. Fill the first page with a loving note for your man.
View Singles Near You