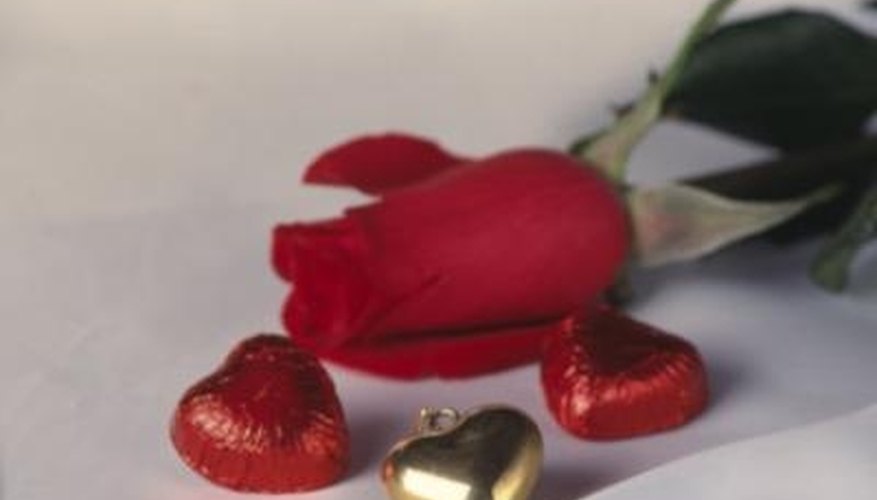 Flowers
Flowers make a perfect romantic gift. Try buying your love a dozen red roses, as they signify love. Accompany the roses with a vase so they can be proudly displayed for everyone to see.
Picture Frame
Picture frames can be very romantic. Choose a frame that holds a single picture or a collage type that allows you to capture many special moments you have shared. Be sure to personalize the frame by having it engraved with your names, hearts or a short love poem. Place favorite pictures of you and your love in the frame so it can be put on display immediately.
Key to Your Heart
Let your love know that she holds the key to your heart. Purchase a key-to-your-heart necklace that consists of two necklaces--one a heart with a lock and the other a key. She will wear the key while you wear the heart. The key will let her know that she has stolen your heart.
Love Pajamas
Purchase a pair of love pajamas that not only allow her to get comfortable, but also come with 100 reasons why you love her printed on it. If you are looking to personalize the pajamas, you can add your own reason why you love her to make it 101 reasons.
Key Chain
Give her a key chain that reminds her of your love every time she pulls out her keys. When his and her key chains are side-by-side, they come together to make a heart shape. When you give her half of the key chain, you can let her know that she completes you.
Love Pillowcase
A love pillowcase can make sure she is thinking about you while she is sleeping. The pillowcase has the word "Love" printed on it and it can be personalized with both of your names so that you are always on her mind.
References
Resources
View Singles Near You