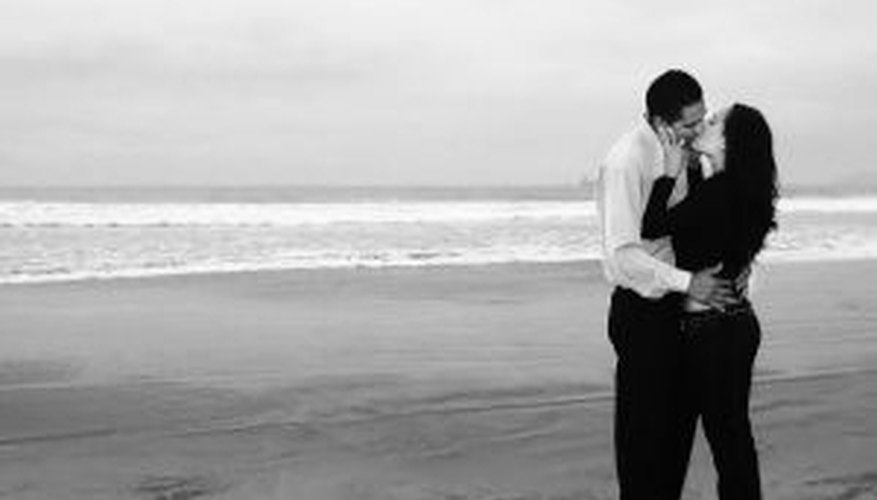 Gifts of Scent
All colognes have a scent base. Colognes have a woodsy, clean, citrus or oriental smell, just to name a few. Examine your guy's medicine cabinet or dresser. Note which types of scent he likes wearing. Enlist the help of the perfume counter staff at your local department store. Tell them what your guy wears now. They can suggest something new and exciting. Stay with the base type he already uses. Wrap it up in some sexy wrapping paper like one with a kiss print. Tie a little note around the gift. Say something like, "This is for you to wear later tonight." Scented massage oils are also winners. Give your guy a sexy 20-minute massage using a scented oil. He'll feel and smell great.
Pamper Kits
Not too many guys will willingly show up at a spa. You could bring the spa to him. Get a wicker basket and fill it up with grooming tools. Add a deep blue or lush white robe to the basket. You could tuck in some comfy slippers too. Include a pedicure and manicure kit complete with sensual lotions. After your sweetheart gets a shower, have him wrap up in his new robe. Take a little time and give him a manicure and pedicure. You could even give him a scalp massage. Make his "spa" time a sensual one by lighting some candles and playing soft instrumental music.
Theme Rooms
For a very romantic gift, you could spring for a night or two in a fantasy theme room. Not only will your gift be romantic, but memorable as well. Check with local hotels and resorts to find the theme room that's right for him. Or enlist the help of a reputable travel agency. If he's a sci-fi fan, you might choose a spaceship theme room. For guys who have an interest in all things medieval, choose a room fit for a king. A jungle theme would be a great backdrop for a romantic weekend for two.
References
View Singles Near You