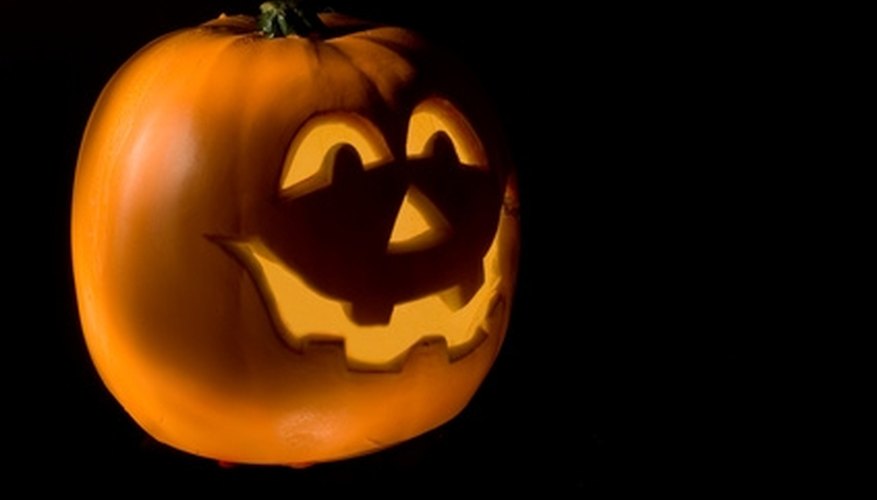 Turn Halloween from scary to sweet with a romantic gift for your significant other. Halloween is the perfect time to enjoy a spooky hayride together, visit a pumpkin patch or simply enjoy the change of seasons and cool, crisp weather. Take the opportunity to snuggle a little closer to your sweetheart. Gift giving doesn't have to be reserved for Christmas or birthdays; a Halloween gift can be a sweet surprise.
Jack-O'-Lantern Message
Purchase eight pumpkins and carve a letter into each one to spell out "I Love You" or any other message you have for your significant other. Once they are carved, place a small votive or tea light candle in each one and line them up in the yard where your partner will see your sweet Halloween message.
Candy Treats
Fill a plastic pumpkin with your beloved's favorite candies and treats. Tuck a stuffed bat or spider into the top of the pumpkin or even a small token such as a gift card to his favorite coffee shop. Don't forget a funny Halloween greeting card to complete your gift. If your sweetie prefers your homemade treats, make him a batch of orange frosted cupcakes or sugar cookies cut into Halloween shapes.
Movie Marathon
Present your loved one with a gift basket that will ensure a night of snuggling on the couch together. Fill the basket with scary movies that you know your partner will like, some microwave popcorn, movie candy and a fuzzy new Halloween-themed blanket. Watching a horror movie can be an experience that brings a couple closer together.
References
View Singles Near You