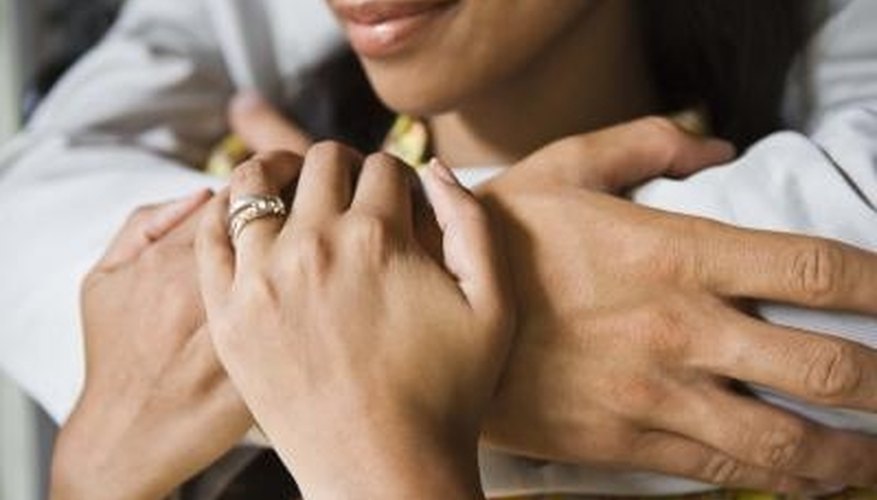 Jewelry
Jewelry is a symbol of romance because it can symbolize the connection between two people. A diamond ring, bracelets, necklace or earrings with precious jewels are some favorites. The jewelry may also be engraved with the couple's initials or a special message of love to her. Jewelry with meaningful symbols, such as hearts or a special charm is romantic. Individual pieces or a full set of jewelry, wrapped in a beautiful box, decorated in a bow and presented to the lady, are great romantic gifts.
Lingerie
Lacy lingerie with elaborate designs and stitching is another romantic gift idea for ladies. Fabrics that feel silky on her body will initiate romance. A matching robe and slippers may accompany this gift. Again, presentation is important. A professionally wrapped gift of lingerie after a romantic evening for two is just right for Valentine's Day or any other romantic holiday occasion.
Perfume
Buy her favorite brand of perfume and dab a bit behind her ear. The scent of the perfume will stir her senses and set off a romantic evening. If you are not sure of the brand to buy, good romantic scents include Romance by Ralph Lauren, Pink Sugar by Aquolina and Lovely by Sarah Jessica Parker, according to Seventeen Magazine. You can also surprise her, allowing her to try several brands during an impromptu visit at the store, and buying the perfume that she loves best.
Roses
Red roses are traditionally a romantic gift for women. However, it is best that the roses are accompanied by other gifts during holiday occasions. Although they may only survive temporarily, the sweet scent of roses will remind her of your love for her. Write a poem expressing your feelings and read or recite the poem as you give her the roses. Remember to tell her that she is more beautiful than the bouquet.
View Singles Near You