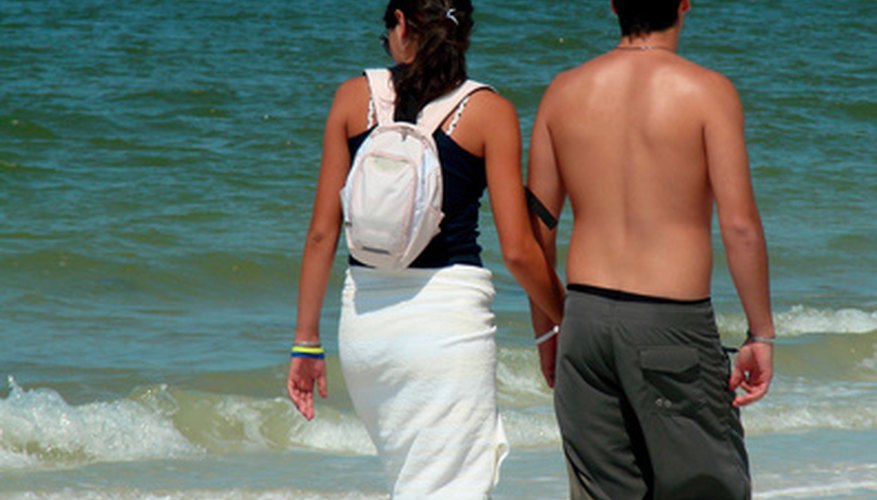 In the Mountains
Roaring fires, champagne and romantic dinners are typical of romantic mountain resort honeymoon packages. A visit to any of the nation's mountain ranges located in the western, southern and eastern regions of the United States makes a romantic honeymoon idea. Snow-capped Rocky Mountains in the west or the Poconos in the east provide just the right backdrop with cozy honeymoon suites and cabins. Mountain resorts are also year-round destinations for outdoor enthusiasts to hike and fish from the spring through the fall and ski during the long winter months.
Castles
While there may not be royalty in the United States, a few castles in the country offer romantic honeymoon destinations. Imagine starting your married life in a whimsical castle, such as Castle on the Hudson in Tarrytown, New York, located on a high bluff overlooking the Hudson River. The architecture of this hotel, which was built in 1910, is similar to medieval European structures, with stone walls, turrets and towers, and features 31 guestrooms. Located on the West Coast is the Mission Inn Hotel & Spa in Riverside, California. This massive structure spans an entire city block and was originally constructed in 1876. The hotel has 239 guestrooms with diverse décor, including stained-glass windows, turrets, vaulted ceilings and balconies. The full-service spa offers special couples massages.
Island Getaways
If you are thinking of an island getaway for your romantic honeymoon, you can find one on each coast. Your first thoughts may be to spend your honeymoon lounging on the white sandy beaches in Destin, Florida, or surfing along the warm southern coast of California in San Diego. Another romantic honeymoon idea to consider is a visit to the Pacific Northwest's San Juan Islands, just over an hour's drive from Seattle, where three main islands offer views of mountains, sandy beaches and rocky shores with lighthouses.
Bed and Breakfasts
If an intimate setting with a homey personal touch is what you are planning for your honeymoon, a bed and breakfast is just the place. Many are available to choose from in almost any state you wish to visit. If you enjoy historical settings, consider historic Savannah, Georgia, where you'll find southern hospitality. The Midwest has many bed and breakfasts located in the wine country of Augusta, Missouri, offering romantic historic settings, some atop bluffs overlooking the Missouri River and all within close proximity to wineries and museums.
View Singles Near You