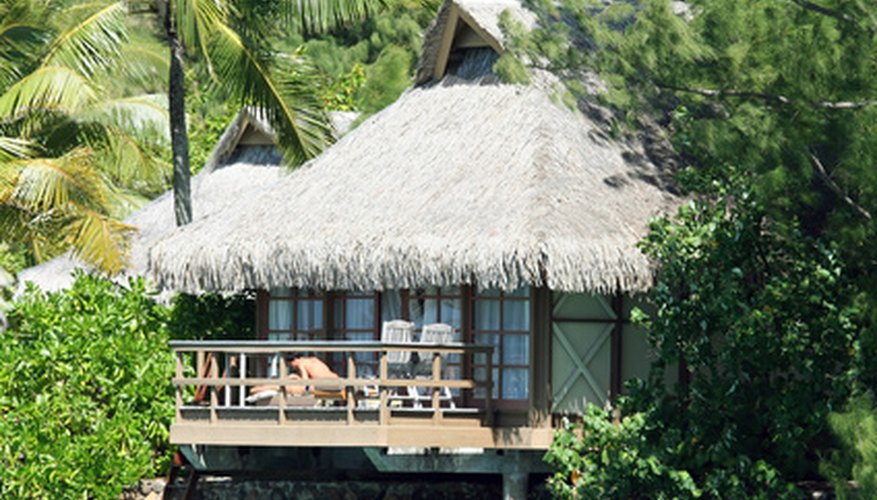 Hotel properties located either adjacent to or with complimentary transportation to the theme park work to provide adult guests the opportunity to bring the children for a vacation while stealing some romantic time for themselves. Property hosted day camps and activities, upscale shopping, professionally designed golf course and pool areas, as well as award winning restaurants and suites with all the amenities make it easy for parents to get a romantic vacation in for themselves whether taking the kids to the Universal Orlando area or visiting just for themselves.
Loew's Royal Pacific Resort
This Pacific island themed 1,000 guest room resort hotel property by Loew's boasts 51 suites for a romantic weekend or week long getaway along with 6 restaurants and a lagoon style pool complete with a sandy beach to sun the afternoon away together. Kids are not forgotten here by the staff with the Mariner's Club children activity programs so that mom and dad can enjoy their time with one another. Golf and theme park discounts are available for guests and 24 hour in-room dining and specialty events such as Hawaiian luaus are available to make the romantic getaway memorable. In 2010 accommodation rates range from $148 to $338 per night double occupancy.
Loew's Royal Pacific Resort 6300 Hollywood Way Orlando, Florida, 32819 407-503-3000 loewshotels.com
Loew's Portofino Bay Hotel
If a vacation to marvelous Italy has been calling to your traveling spirit but the traveling budget has been balking because of the oversea airfare then Loew's provides the next best solution closer to home in its Portofino Bay Hotel property near Universal Orlando. With the feel of a coastal Italian piazza harbor town throughout the resort, guests will think they are living "le dolce vita" as they zip around on Italian Vespa scooters, enjoy pampering in the Mandara Spa and partake of any of this 4 star hotel property's 8 award winning restaurants. While the kids are taken care of in El Campo Portofino children's activity center, mom and dad can enjoy their romantic weekend swimming in three landscaped pools, dining with priority seating at select Universal Orlando theme park restaurants and browsing through the property's upscale boutiques and art galleries. In 2010 accommodation rates range from $182 to $395 per night double occupancy.
Loew's Portofino Bay Hotel 5601 Universal Blvd Orlando, Florida, 32819 407-503-1000 loewshotels.com
Hyatt Regency Grand Cypress
As one of Orlando's top rated resort hotel properties the 815 room Hyatt Regency Grand Cypress offers those looking for a memorable and romantic getaway near Universal Orlando exceptional customer service and various stay packages catering to anniversaries, honeymoons and romantic escape weekends. Undergoing a $45 million dollar renovation in 2008 the 1500 acres of resort property now offers guests a Jack Nicklaus designed golf retreat, tennis and racquetball club, a half acre landscaped pool and waterfall complex and complimentary transportation to nearby theme parks. Kids have a blast at Camp Hyatt and babysitting services are available so that mom and dad can relax and enjoy the six restaurants and lounges which the property offers or enjoy an afternoon of hot air ballooning for two. In 2010 accommodation rates range from $157 to $290 per night double occupancy.
Hyatt Regency Grand Cypress One Grand Cypress Blvd. Orlando, Florida, USA 32836 407-239-1234 grandcypress.hyatt.com
Hard Rock Hotel at Universal Orlando
For the couple who loves rock and roll and live music a romantic getaway at The Hard Rock Hotel at Universal Orlando can allow them to take in all the top acts who headline at this hotel venue and to enjoy Universal Orlando theme park with discounts and V.I.P. check in procedures which eliminates waiting in long attraction ride lines. The Rock Shop gift store, California mission style themed accommodations from standard rooms to club level all inclusive suites and the busy pool and jacuzzi complex with swim up bar and live music make the Hard Rock Hotel at Universal Orlando hard to beat for the couple who loves being in the middle of all the action and energy both in the park and out. Accommodation rates range from $161 to $393 per night double occupancy in 2010.
Hard Rock Hotel at Universal Orlando 5800 Universal Blvd. Orlando, FL, 32819 1-888-832-7155 hardrockhotelorlando.com
View Singles Near You