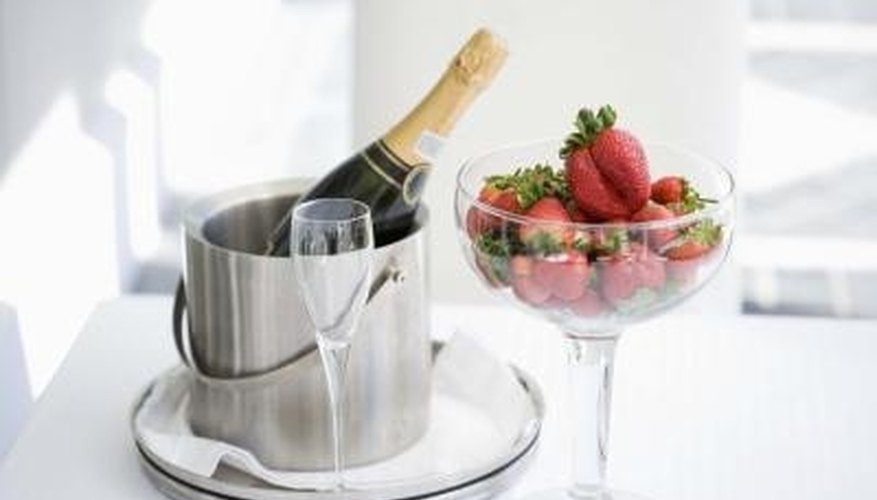 Light Candles
Candles are the easiest way to set the tone for a romantic evening. The light from a lit candle changes the whole interior of a room and creates an amorous ambiance. Scented candles also add a touch of aromatherapy, creating relaxing undertones. For an elegant look, place several tall scented pillar candles together on a hard surface, such as the dressing table or a bedside table. Ensure that you place the candles away from fabrics and other flammable materials. Light the candles well before your partner arrives to give the candles' scents a chance to fill the air.
Serve Champagne on Ice
It's not every day that you are able to toast your loved one with a couple of glasses of chilled champagne. To set a romantic mood for the rest of the night, don't wait for a special occasion. Set up a fancy bucket full of ice in your bedroom and place the champagne bottle in it to chill. Have two champagne glasses ready nearby; decorate the each of the glasses' rims with a strawberry garnish as an added touch.
Flower Petal Confetti
Nothing says romance better than red roses. However, instead of investing in several dozen roses, consider simply buying three or four. Gently remove the petals from their stems and scatter them all over the room, including on the bed and bedside tables. Alternatively, you can buy miniature roses and simply snap the entire rosebud off of the stem. Place the rosebuds in strategic places, such as on the top of the pillows on the bed.
Play a Romantic Board Game
There are several different kinds of board games made expressly for couples seeking to spice their relationship up a little bit. Offer a special reward for the winner of the game, such as a sexy gift or a sensuous massage from the loser. Just make sure to purchase the game well before your romantic evening and read the directions beforehand so you don't have to waste any time in the bedroom with your loved one.
View Singles Near You