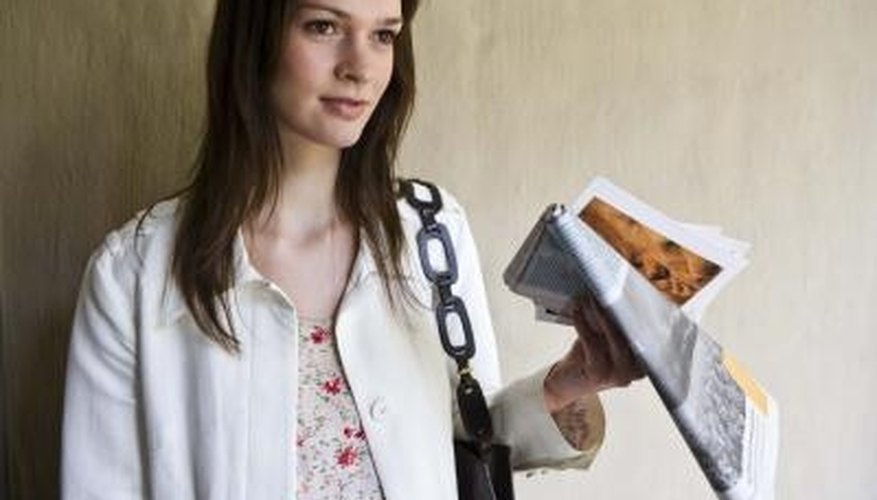 Letter
Writing a letter for someone can be romantic, although it doesn't necessarily have to be a love letter. Rather, you can just write a brief note telling your loved one how talented he is or how you're thinking of him. This could even be a sticky note so he can put it somewhere he can see it every day, like on his computer monitor or desk.
Love Letter
You can also write a longer, more emotional love letter that tells your significant other exactly what you think of her in an emotional, stylish way. Use nice paper if you do this, as a love letter should not feel like a piece of business correspondence. Yellow legal pad is out.
Use emotive language and make it personal by mentioning things that only you and your significant other will understand. You should also make sure you write a date on the top so that your significant other can look back at it and remember when she received it.
Packages
You can send your significant other little things that remind him of you and remind him that you're thinking of him. For example, if there's a certain kind of tea that he only drinks at your house, you could put a single bag of that tea in an envelope and send it to him. This doesn't really need to come with a letter explaining it, as the specificity of the gift says it all.
You can also expand this to bigger packages, with things like crafts you've made and other personal gifts that are box-sized.
Third Party
You don't need to be the one sending something to your significant other to make romantic use of the mail. You can also have things sent to your significant other by ordering them and putting her address in the "to" field. Flowers are good examples, but the world's really your oyster in the age of digital shopping. You can order a book or DVD she likes, for example, or even order some food like fish or shrimp that is not available in the town in which the two of you live.
View Singles Near You