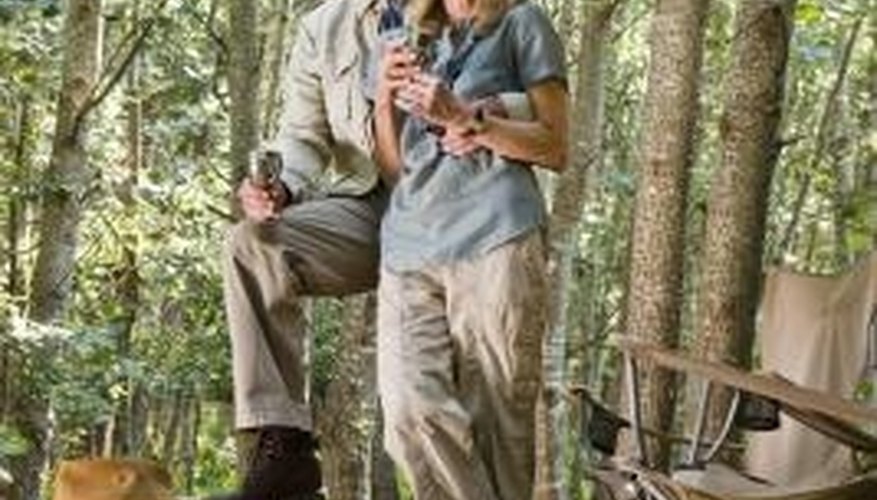 Personalized Gifts
Give your significant other a personalized item of romance that reminds him of you and brings a smile to his face when he wears it. Burn a collection of songs you both like or listen to together on a CD and give it to your sweetheart. Or, sew a couple's pillowcase with his and your initials across the front, or a line such as "Property of (Your Name)" on his pillowcase and "Property of (His Name)" on your pillowcase. You can also write your sweetheart a poem that expresses your feelings, a love letter or a romantic, intimate story starring you and your sweetheart as the main characters.
Trips
Whisk your sweetie away to a romantic destination to spend quality time together in a different surrounding. Depending on your budget and personal preference, surprise your partner with tickets to the Caribbean for breathtaking island and ocean views, long walks and candlelight dinners, or reserve a room in a local hotel with a view of the city's skyline and access to private, intimate features such as a Jacuzzi or tub for endless petal-sprinkled baths together.
Time and Attention
Take time out of your schedule and dedicate it to spending it with your sweetheart to nurture your relationship and create fond memories together, without distractions from the children, television or telephone. For instance, book a couple's massage at a fancy spa or create the spa-like atmosphere in your bedroom by dimming the lights and playing soft music while you take turns massaging one another. Alternatively, make a handmade romantic coupon book composed of intimate activities the two of you can share.
Recreate the Past
Recreate an important event from the past to impress your sweetheart with your memory of minute details. Ideas include your first dinner, first date, first road trip or your first kiss. Wear something similar to what you wore then, visit the same location, book the same table or seats, inform the management to play the same music, give a similar bouquet as you did then and dance to the same song. Try to recapture as many instances from the memorable occasion as possible to make the evening a special one.
View Singles Near You