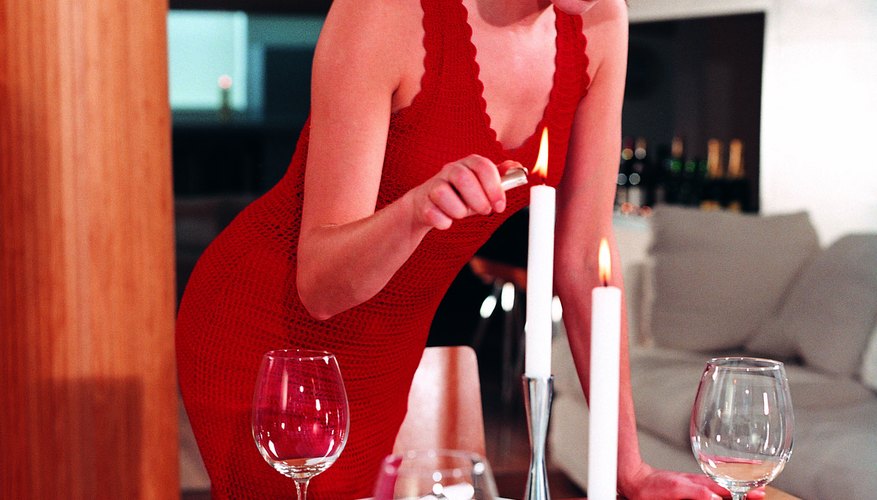 Romantic Love Coupons
With love coupons, your lover can ask for romantic favors any time he wants; they never expire. The coupons can be for anything you know he will love, such as a full body massage, breakfast in bed, his choice of movie night or a home-cooked meal. You could simply present him the coupons along with a romantic card, or surprise him by hiding the coupons in his briefcase before he sets off for work or hiding them in places around his home you know he will find them, such as a book he is currently reading.
Candlelit Dinner
Sometimes the way to a man's heart is through his stomach, so a romantic candlelit dinner at home can be a way to show him you love and appreciate him. Prepare some of his favorite delicacies and have him choose the order they should appear by making a homemade menu card. Decorate the room with scented candles and flowers, and don't forget to dress to impress.
Gift Basket
A gift basket is a way of giving your guy a selection of gifts you know he will find cute and romantic. Fill the basket with an assortment of items to make him smile, such as a framed photo of you both, his favorite homemade snack, a CD with all his favorite songs, chocolates and his preferred wine. You could place the gift basket on a side table next to his bed so it is the first thing he sees when he wakes up in the morning.
Tickets
Purchasing tickets for an event you know he will love can be a romantic gesture which reaches his heart. It shows you take an interest in his hobbies, which suggests to him that you really care and appreciate him. If he is into sports, you could get him two tickets, one for him and one for you, to see his favorite team. If he has always wanted to drive go-karts, get him tickets to do so with some mates. Be creative and choose a gift which matches his personality and that you know he will adore.
View Singles Near You