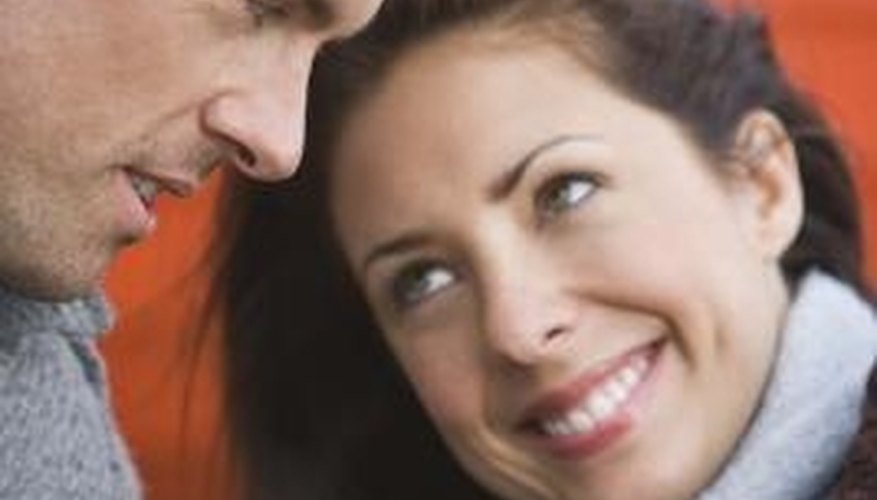 Bath Time
A romantic bath setting at home or a hotel creates an ambiance that is ideal for getting engaged. Draw a bath for your loved one, filled with bubbles and rose petals, and have glasses for champagne on standby. Tie the engagement ring to a floating bath toy, such as a rubber ducky, and wait for your soon to be fiance to discover what the bath toy has in store for her. Make sure that the bathtub has a secure drain closure, so that the ring does not accidentally get sucked down the drain if it comes undone.
Chocolate
If your soon to be fiance loves chocolate, surprise her with a box of truffles from her favorite chocolatier. Make sure each truffle is individually wrapped in a small box, leaving one box empty for the ring. When you go to present the truffles to her give her one of the boxes with chocolate first and then hand her a second box that has the ring in it. When she opens the box she'll be surprised to find the ring in place of a truffle.
Crossword Puzzle
Make a crossword puzzle with a hidden message "Will you marry me" mixed in with other words. Come up with clever clues of words that use these four words. Give the puzzle to your soon to be fiance to complete. She should start to notice what is happening after the first two words "will" and "you."
Candy Message
Perhaps your girlfriend loves a particular candy, such as M&Ms or Skittles. Buy a bunch of them and, when she isn't home, write the words "Will you marry me?" out of the candy pieces. When she gets home and sees it, she will be in for a sweet surprise.
Restaurant
If you want to pop the question at a restaurant, get the restaurant staff to be in on it with you. Contact them ahead of time and tell them that you want to ask your girlfriend to marry you. They can help orchestrate the big moment for you. One idea is to have them replace the inside of the menu with a sheet that says "Will you marry me?" so that instead of seeing the entree list, your girlfriend gets the exciting message. Another option for a restaurant proposal is to have the serving staff bring out the engagement ring on the dessert platter, surrounded by fruits and flowers to make it look pretty.
Pets
Pets make effective props for marriage proposals. If you or your girlfriend has a dog or cat, use them in your scheme. Tie the ring around the pet's collar and wait for your girlfriend to notice what is dangling from the animal's neck.
Ceramic Painting Class
Sign you and your girlfriend up for a ceramic painting class. She may think that something is up, but tell her that you've always wanted to paint a ceramic plate for the house. Take your painting seriously, but be careful to not show her what you are making. When the time is right present her with your painted ceramic dish that says "Will you marry me?" on it. Time it so that she reads the plate while you get down on one knee to show her the ring.
References
View Singles Near You