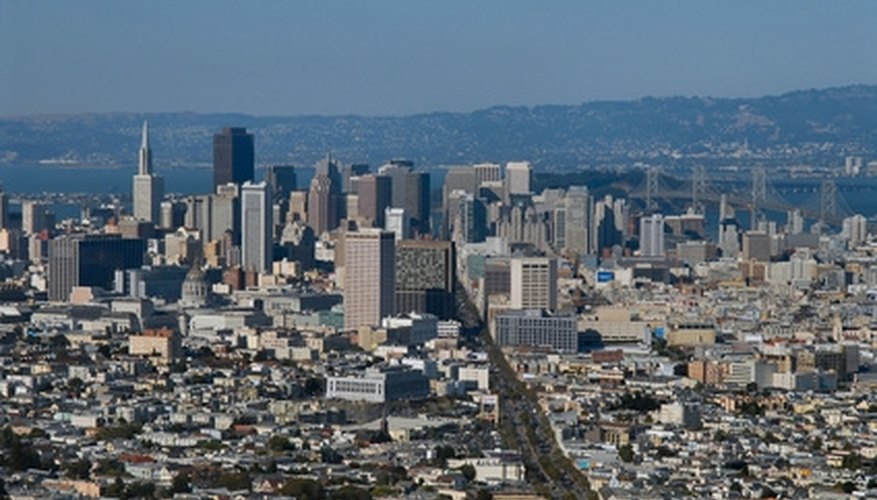 Land's End
The northern coast of San Francisco is comprised of undeveloped, cliff-ridden beaches and winding, hilly, historical trails which all terminate in rocky Pacific shallows. This green spot on the map is designated as Land's End, a part of Golden Gate park. Numerous secluded plateaus, benches, and trail-sides offer shocking views of the world's largest body of water. The quiet peacefulness of the area makes it the perfect place for a romantic dinner, packed in a picnic basket. Digest dinner with a walk down the long, winding steps down to the ocean itself, occupied only by caves and cliff sides, typically empty of human visitors.
Fisherman's Wharf
Fisherman's Wharf, located in the North Beach/Marina district of the city, offers the most extensive range of seafood in the entire city. Various fisherman's markets right on the bay and along the docks sell world famous clam chowder, crabcakes, and other sandwiches and drinks. Carry your food with you as you stroll along the bayside streets, taking in views of Alcatraz Island and the Marin Headlands. For those feeling adventurous, a hike up to Coit Tower offers a 360 panorama of the Bay Area on clear days. The tower's grounds are complete with benches on which to enjoy your food.
Asian Cuisine in the Richmond
The Richmond and Sunset Districts of the city, to the immediate north and south of Golden Gate Park, are home to a bevy of Asian cuisine options that can be turned into a very romantic evening. For more high-class, traditional dining, eat at restaurants such as Burma Superstar candlelit booths for two, along with a quiet decorum and an interior designed with extensive artwork. Smaller, less expensive, and typically not crowded local restaurants abound in this area of the city, and any lover of Asian cuisine will appreciate the quality of the food.
Alternatives in Noe Valley
The Noe Valley neighborhood in San Francisco is located in the southern-central part of the city, packed with small, local restaurants. This quieter and more relaxed area of the city has almost a small-town vibe to it. Set just east of the landmark of Twin Peaks, it is also one of the highest neighborhoods, offering excellent views of the Bay when it is clear. One of the most unique eating opportunities in the city is in Noe Valley, at the Foreign Cinema. This high-class theater combination restaurant and bar offers seating for large private groups and for individuals. Critically acclaimed films from around the world are shown in a covered outdoor amphitheater that can be viewed from a heated indoor mezzanine and patio.
View Singles Near You